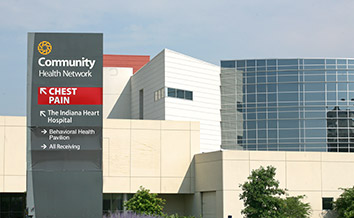 Community Health Network's operating income fell 37%, to $80.6 million last year, as admissions, emergency room visits, surgeries and other services fell during the COVID-19 pandemic.
The Indianapolis-based hospital system said the pandemic affected all seven of its hospitals, especially during the first half of the year.
Since July, however, Community Health has seen an "upward positive trend in all its services," the network said in a debt filing Thursday afternoon, the latest signal that the worst of the pandemic's financial effects on hospitals might be over.
Patient service revenue fell 6.4%, to $2.37 billion. To help offset the decline, the network received $99.8 million in federal relief money last year.
Hit hardest were outpatient visits with physicians (down 22%), outpatient surgeries (down 20%), emergency visits (down 16%) and inpatient surgeries (down 14%).
But virtual appointments with physicians via telemedicine soared from 1,761 in all of 2019 to 407,257 last year, an increase of more than 23,000%.
The network's operating expenses increased $96.4 million, or 3.8%, last year, which included higher costs for supplies, employees and temporary staffing. The network said it did not furlough any employees between April and December. Earlier in the year, it cut at least 80 administrative positions.
Its operating margin was 3%, down from 5.2% a year earlier.
The network owns seven hospitals in central Indiana, including Community Hospital North, its largest, in the Castleton area.
Please enable JavaScript to view this content.