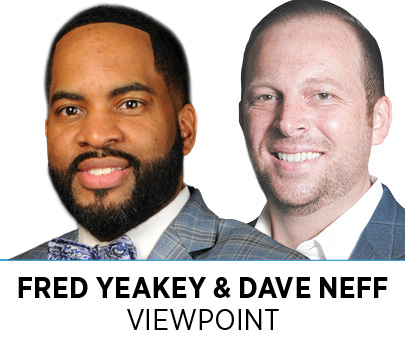 Picture this: It's 5 a.m. and the alarm clock goes off. You gather your thoughts as you stagger out of bed. You have to be at the bus stop no later than 5:45 a.m. or you'll miss the school bus.
As you quickly gather your belongings and leave, you take one last peek into the mirror to make sure your tie is tied correctly—because you can't afford to be penalized for a uniform infraction, especially on your Corporate Work Study internship workday. You arrive at the bus stop in enough time for the 45-minute ride to school.
You travel through multiple ZIP codes, observing schools in your own district, and note each community landmark that alerts you to how close you are to school. Finally, you arrive, pick up your lunch and get back on the bus to your corporate work study job, where you spend the entire school day learning skills that many 16-year-olds—particularly 16-year-olds from low-income communities—often miss out on.
Today, you will be in a laboratory at one of the city's most prestigious companies learning how to be a chemist.
But too many other students are trapped in the five-digit ZIP code of their community. The lack of exposure and the constant cycle of limited access to opportunities stunts the growth of bright minds throughout urban communities.
What if there were hope? Something we could offer students that extends their access to opportunities beyond their community? What if we could offer a student the chance to see a legal drug dealer? What if we could expose students to careers that could lead to buying homes, simultaneously providing solutions to root causes of poverty?
Corporate America has the answer to this problem—and it is called mentorship.
Education can no longer be imagined as something that takes place within the walls of traditional schools but should be recognized by seeing what a quality education can afford you. Opportunity is relative to your level of exposure. Only when urban students are exposed to something outside their ZIP code can they get a vision for a new normal. And the bridge to a better community and life starts with the infrastructure and access to corporate mentorship.
We see a significant opportunity for the private sector to catalyze life-altering trajectories for poor students. The lines of education and career are already beginning to blur. Take for example, Providence Cristo Rey High School on the near-west side in the Hawthorne neighborhood. This is a school of 200 students—97% of whom are minorities—all from low economic means. Yet, 100% of this year's graduates were accepted to college.
Not all students will end up attending college—some might join the military, go to trade school or pursue another postsecondary credential. However, the school's unique "earn-and-learn" model has all students—freshmen through seniors—attending school four days a week with a corporate internship the other day. After four years, these students have the confidence, experience and vision to see a different future. They learn problem solving, communication skills and the intangibles associated with operating in a professional environment.
More than 90 companies have stepped up to host students over the years, but we are calling all business leaders to get in the game! By investing in a meaningful program like that at Providence Cristo Rey and bringing these young minds into your company, you will provide hope and a hand up to a brighter future—one soul at a time.•
__________
Yeakey is vice president of Providence Cristo Rey High School. Neff, the chief revenue officer at Prolific, co-chairs the school's corporate work study board.
Please enable JavaScript to view this content.