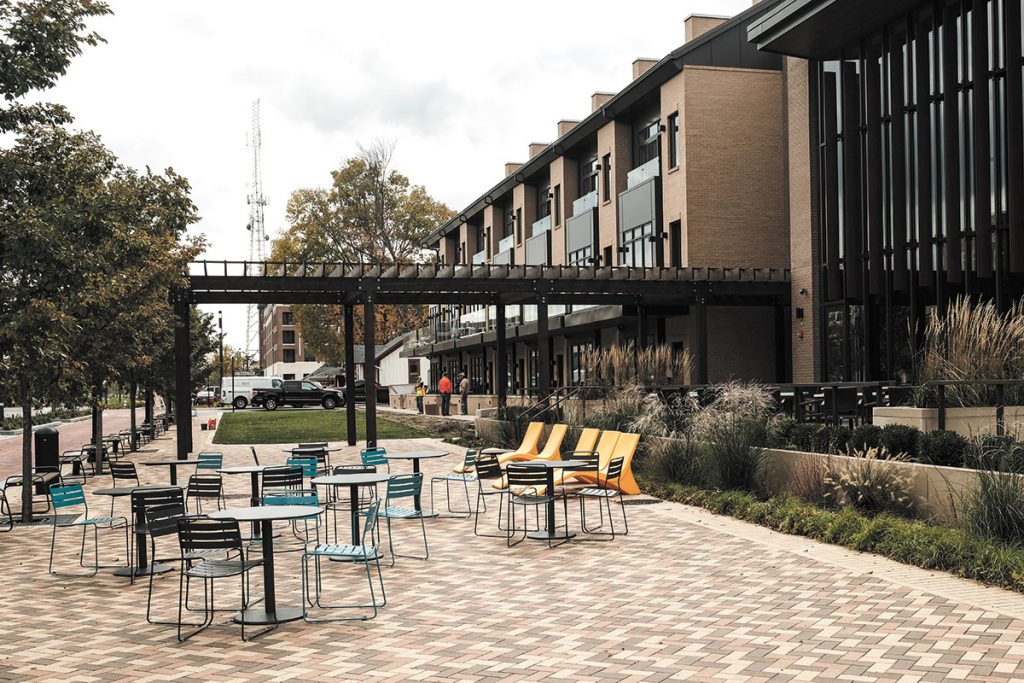 Over the last decade, hundreds of high-end apartments have been added to Carmel's central core, attracting millennials, empty-nesters and even families who have made the city's active and growing downtown their home.
But city officials have long sought to diversify housing options in the central core by introducing for-sale condominiums and town houses.
Finally, those options are on the market or on their way in the area that generally encompasses City Center, Midtown and the Arts & Design District.
Several projects in the pipeline will add dozens of condos and town houses to the market. And at least two projects along the Monon Trail just outside downtown will add condos and town houses and link residents to the central core's amenities via the Monon.
They'll join the few existing for-sale units already available in City Center and the Arts & Design District, where apartments are king.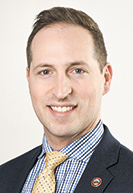 Carmel Redevelopment Commission Director Henry Mestetsky told IBJ ownership opportunities encourage residents "to really buy into their neighborhoods and buy into their portion of the city."
"For an urbanizing environment, I think that's very important, and it's just not something we've had here," Mestetsky said.
Of course, single-family detached housing already exists around City Center and the Arts & Design District. But condos and town houses, which often come with maintenance-free living and closer access to central amenities, are lacking.
Today, nearly 5,900 apartment units are built or under construction between Meridian Street and Keystone Parkway north of 116th Street—the boundaries that generally define the central core. Those units account for roughly 75% of apartments across the city.
Meanwhile, for-sale units in the area are much harder to come by.
The Residences at City Center—built nearly a decade ago—has condos on its upper floors. And the Monon & Main development on Main Street in the Arts & Design District includes seven town houses. Each one sold for $1 million or more before construction was even complete last year, signaling to city officials and developers the market is ready for more.
Mestetsky guesses some of the residents currently living in higher-end, larger apartments in some of the central core developments—like Sophia Square where few two- and three-bedroom apartments are currently available—would prefer a for-sale unit if it were available.
"Our apartments are very high-quality, and it presents the kind of life that I think people enjoy and [they] want to be part of the neighborhood, but they don't truly get to buy in," Mestetsky said. "Our residents in the central core have been using the apartments as almost condos because condos were just not an option."
Mestetsky and Mayor Jim Brainard frequently meet with real estate agents who have clients looking for something for sale near downtown.
But financing projects that include condos and town houses can be challenging.
It's a challenge not unique to Carmel.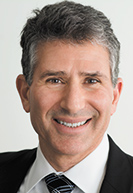 In Indianapolis, for example, there are few true condominium projects, said George Tikijian, executive managing director at Cushman & Wakefield. And those that are under construction or have been built are typically developments of only 10 to 50 units.
That's because it's much easier to line up financing for a large apartment project than a large condominium project. Developers building a condo project typically must sell a certain percentage of the units (say 50%) before they can get financing. That can extend a project's timeline because condo buyers have to obtain a mortgage before they can make a purchase.
Additionally, condos are a riskier development because their profitability is back-end loaded, Tikijian said. For example, a developer building a 100-unit condo project might have to sell 90 or more units before it sees a profit.
What's planned
Carmel-based Novo Development Group, the developer behind the Proscenium at Rangeline Road and City Center Drive, will bring the first flat-condo project to the market next year.
The developer plans to build 26 condos ranging in price from $300,000 to $500,000 as part of its mixed-use development that will also feature office, apartments, a public plaza and four restaurants, including Wahlburger's. Parts of the project are already under construction.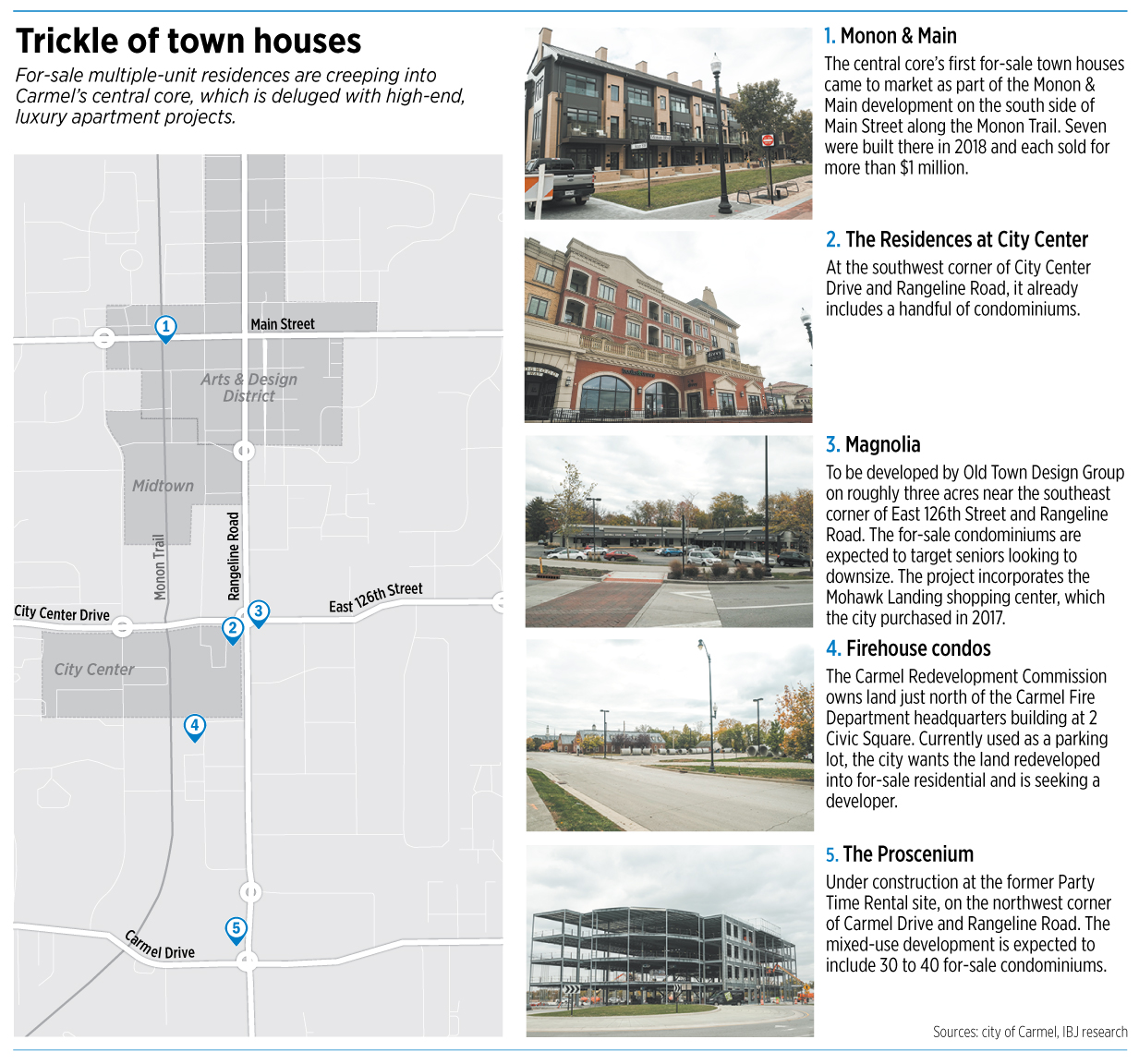 Novo closed on financing for the condos two weeks ago and is putting finishing touches on its sale center before beginning to market units Nov. 15, Novo Development founder Tony Birkla told IBJ.
There's already a "hefty list" of people interested in for-sale products in the core of Carmel, he said, even though Novo hasn't done much advertising that condos are part of the project. Word has spread, and the developer gets calls frequently from people wanting to buy.
"We've talked to a lot of brokers that say we're going to do great, but time will tell," Birkla said.
Originally, Novo planned all apartments for the Proscenium, but as the project grew and after talking with city officials, it decided to dedicate one of the buildings to condominiums.
But the condos haven't necessarily come to fruition easily, Birkla said. Novo has had to forge the path for what condos in Carmel will look like.
"For us, it's been challenging because we can't look and say, 'Here are all our competitors and we're going to build that,'" he said. "That's been one of the largest challenges, trying to come up with a condo where there are no comps."
The developer has spent a lot of time talking to people about what they want to see in a for-sale project, price ranges they would be comfortable with and more. The sale center will have 3-D models to help buyers envision their options, Birkla said.
"We're all in with these condos, and we do believe, just based on the number of people who have called us … that we have a pent-up demand," he said.
What's possible
Mestetsky hopes the Proscenium condos are the first of many.
"I envision this next set of for-sale products that happen in Carmel will be a catalyst for a wave of this type of growth because lenders will see it as an amazing investment," he said.
Other projects are already planned.
For years, the city has eyed a 3.3-acre property north of the Carmel Fire Department headquarters at 2 Civic Square along the Monon Trail for a for-sale residential project. The land is owned by the Carmel Redevelopment Commission, which put out a request for proposals for the land more than two years ago. At that time, no developer presented a project the city deemed acceptable.
Mestetsky said that type of in-fill urban development requires a lot of coordinating, so finding the right developer and the right project is important. Since then, several projects at City Center have been completed, and he believes interest from developers is high. He hopes to announce a partnership by early next year that would lead to at least 50 for-sale units.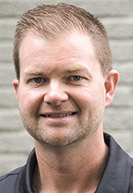 And down the street, at Rangeline Road and 126th Street, Old Town Design Group is working on a luxury multifamily development with condos on roughly three acres. The project, which would result in single-level condos for Carmel's active empty-nesters, is still in the planning process, but it would likely encompass some of the Mohawk Landing shopping center, which the Carmel Redevelopment Commission acquired several years ago.
"We are actively trying to solve what Carmel needs," Old Town Cos. CEO Justin Moffett told IBJ. "It's not easy or it would have been done by now."
Old Town is also working on a project called North End on the north side of Smokey Row Road between the Monon Trail and Meridian Street that would include town houses and condos. The project falls outside the central core but would connect to City Center, Midtown and the Arts & Design District via the Monon.
Northwest of the Old Town site, Lennar Homes has proposed building 60 town houses on 6.8 acres bordered by the Monon Trail to the east and Rhorer Road to the west.•
Please enable JavaScript to view this content.