It might be one of the biggest companies you've never heard of.
But if you have ever called customer service for a government health or human services agency—including Indiana's Medicaid program, Department of Child Services or Department of Health—there is a good chance you talked to an employee of Maximus Inc.
The massive suburban Washington, D.C.-based company, with more than 34,000 employees and nearly $3 billion in annual revenue, is one of the top government contractors in the United States, handling back-office and customer-service functions for state and federal agencies. From call centers and remote work-at-home locations, Maximus employees field thousands of calls a day from people inquiring about enrolling in a government program or providing information on child support payments or job searches.
And starting this month, Maximus is taking on a critical, massive new assignment: helping local health departments across Indiana contact people who have tested positive for COVID-19 to learn whom they might have exposed.
It is a laborious, time-intensive job known as contact tracing, and Indiana is pushing to get help from Maximus as quickly as possible. In recent weeks, Maximus has hired hundreds of temporary employees to help Indiana get a better understanding of how the virus is spreading and to warn people who might not know they are infected.
The situation is an unusual one for health officials around the state, who have handled contact tracing on their own for previous disease outbreaks over the decades, including tuberculosis, measles, mumps and HIV.
Indiana is paying Maximus $43 million a year to hire 500 people—many with little experience in this type of work—to call strangers who have tested positive and ask them about their medical treatments, whether they have traveled, and whom they have met or come into contact with.
It is a tough, delicate job that requires empathy, good listening and interviewing skills, and sometimes a knowledge of several languages. The pay ranges from $20.92 an hour for an initial contact interviewer to $45 an hour for a call center supervisor, according to a contract with the Indiana State Department of Health.
Maximus already has hired more than 300 people to work as contact tracers in Indiana, with a goal of hiring 500 by the end of this month. All are Hoosiers or individuals who attend school here in Indiana, the state health department said. They will work from their homes.
More than 4,700 people inquired about becoming a contact tracer, including students, the general public and 500 individuals who responded to a health care reserve workforce survey, such as retired doctors, nurses and pharmacists, the health department said.
Some observers say it's an unusual situation, but one demanded by the pandemic, which has already claimed more than 91,000 lives in the United States, including more than 1,700 in Indiana.
In recent months, some county health departments around Indiana have complained about the huge job of contact tracing, which showed little sign of easing up. Some counties have just three or four employees, including a health officer, nurse and a records clerk.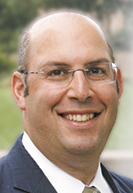 "Public health is 'all hands on deck' right now," said Ross Silverman, professor of health policy and management at the Indiana University Fairbanks School of Public Health. "So you need to build in and bring in reinforcements."
Contracting powerhouse
The company bringing the reinforcements is hardly a household name. Yet Maximus is the country's 25th-largest federal contractor, with annual billings to the U.S. government of $1.2 billion, according to Washington Technology, a magazine for government contractors. That puts it ahead of better-known names like Microsoft and United Technologies.
Maximus was founded in 1975 by David V. Mastran, a former Air Force officer who later said he "went from analyzing bombs to analyzing welfare." He became convinced a private company could win government contracts for such unglamorous work as handling back-office functions for state and federal health and human service agencies.
The company quickly picked up contracts, and grew organically and through acquisition over the next four decades. It went public in 1997.
Maximus ranks 843rd on Fortune magazine's list of largest companies. It also was included on Fortune's "100 Fastest Growing Companies" in 2016, with 25% annual growth over three years, and on the magazine's "World's Most Admired Companies" in 2017, based on a survey of top executives and analysts in nine areas, including innovation, people management and global competitiveness.
Yet Maximus also had a few bumps along the way. In 2007, it settled a Medicaid fraud lawsuit with the federal government for $30.5 million. The government had alleged that Maximus had helped the District of Columbia's Child and Family Services Agency submit false claims to the Medicaid program.
The investigation began after a lawsuit was filed on behalf of the government by Benjamin Turner, a former division manager at Maximus, under whistle-blower provisions of the False Claims Act, according to The Washington Post. Maximus neither admitted nor denied the government's allegations
And in 2013, a Maximus employee was sentenced to prison in Massachusetts for up to two years after pleading guilty to stealing more than $490,000 from the state. Prosecutors said she entered fraudulent reimbursements for her family over a nine-year period into a MassHealth database. Maximus later paid restitution.
The company, based in Reston, Virginia, did not return several emails and phone calls to talk about its track record—or about its plan for setting up a huge contact tracing system in Indiana in a matter of weeks.
Important role
But some who have decades of experience watching Indiana's health care system say the state is doing the right thing by hiring a big company to help overwhelmed local health departments.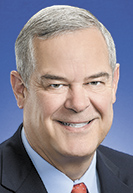 "Should the state be doing this? I would say unequivocally yes," said Ed Abel, director of health care practice at Indianapolis-based Blue & Co., an accounting and consulting firm. "I've never heard anything bad about Maximus, and I've seen their results to say that they're really good at stuff."
Like many other officials in health care, he agreed that contact tracing is a vital part of a pandemic response. But how much experience Maximus has in contact tracing is unclear. It is not listed under "core capabilities" on the company's website. Another part of the Maximus website includes a two-minute video, posted May 1, on how to deal with contact tracing.
"Contact tracing is key as it can warn people of potential exposure to those with COVID-19," says the video's narrator, Dr. Michael Weiner, the company's chief medical officer. "But doing it right will require an additional 100,000 to 300,000 qualified tracers in the United States."
From there, he launched into a marketing pitch to governments, pointing out that Maximus has more than 20,000 workers "who can help right away." He added that another way to deal with the situation is to use existing government resources and "citizen engagement channels."
"Maximus stands ready to close that gap and enable you to better protect your citizens as your economy reopens," he said.
Longtime vendor
Since 2005, the state has spent more than $172 million on Maximus, according to an IBJ review of state contracts. That spanned a wide range of services, from accounting for the Indiana Department of Transportation, procurement at the Indiana Family and Social Services Administration, and call centers for the state Medicaid program.
In late 2017, for example, Maximus signed a $36 million contract to run the state's employment and training programs for food stamps and welfare, along with a work program for Medicaid clients called Gateway to Work.
Indiana health officials said last month that they approached seven companies they had already worked with and asked them to put together proposals. A group of state employees across several agencies evaluated the responses.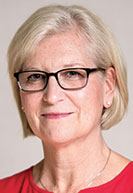 "We wanted to stand this up very, very quickly," Dr. Kristina Box, the state health commissioner, said at the time. "We decided that Maximus gave the best quality for the best price."
Maximus agreed to begin handling calls May 11 with hundreds of new hires trained by epidemiologists. The American State and Territorial Health Officers put together a three- to four-hour video training program. The workers will be backed up by medical and public health students.
Box said the new, centralized approach will be more efficient and take the burden off of local health departments, which are often understaffed and dealing with a raft of other tasks, such as providing child immunizations and inspecting restaurants.
Under the program, the state health department said it is reaching out to all COVID-positive patients with an email and a text, asking them to call the Maximus call center, which will be open 12 hours a day, seven days a week.
When the patient calls in, Maximus workers are instructed to complete the initial phone interview, identify everyone the patient has come into contact with the past two weeks, then send a text or an email to each of those contacts.
Several local health departments, including those in Marion and Hamilton counties, declined to say how the reinforcements from Maximus were working out, saying the company's work was just getting underway here.
"Our contact tracing by the Indiana State Department of Health did not begin until today," Barry McNulty, administrator at the Hamilton County Health Department said in a May 18 email to IBJ. "So I have little to no opinion [yet] on its impact."
Last month, McNulty described the job of his department's seven nurses trying to stay ahead of a growing caseload as "eating this elephant one bite at a time."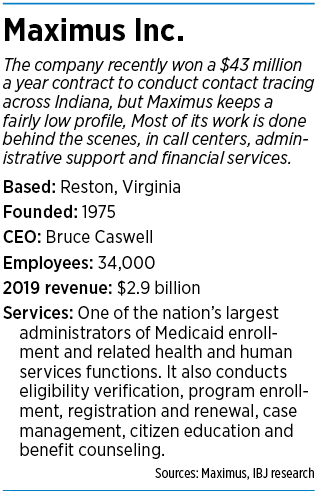 How many, how long?
But whether even hiring an additional 500 people will make a dent in the huge number of patients remains to be seen. As of May 19, the state health department had reported more than 28,000 positive cases of COVID-19, with several hundred new cases being reported each day.
According to the National Association of County and City Health Officials, the industry standard is 30 contact tracers per 100,000 people. By that measure, Marion County alone would need 300 contact tracers. Statewide, Indiana would need more than 2,000.
But Box said the Maximus workers are being brought in to supplement existing resources, not to replace them.
"So, again, I want you to remember that local health departments were already doing contact tracing," she said May 18, when asked about this point during Gov. Eric Holcomb's press briefing. "So we have that entire workforce there."
She added: "We will increase that number as we need."
Maximus CEO Bruce Caswell told investors during an earnings conference call on May 7 that the company had won a contract in Indiana to centralize contact tracing for COVID-19, but pointed out it was unclear how long the contract would last, given the uncertainty of the pandemic.
"We'll support individuals at least through the end of the year, if not longer, dependent upon the pandemic needs of the state and its citizens," he said.
Indeed, how long the state will need to monitor COVID-19 patients, as it gradually allows businesses to reopen, is an open question. Health professionals have said it could be a year or more before a vaccine is available for the virus.
Meanwhile, the virus will likely continue to spread unchecked—meaning health officials will need to continue to monitor the situation to keep it from overwhelming hospitals or killing thousands more people. And a critical, if low-tech, tool for doing that is calling people one at a time, and asking them dozens of questions about their health.
"So, really, we have to go to these old-school approaches, which is testing and then tracing and then isolating the people that we think have been exposed," Silverman said.
"This is the approach that we take to try to contain the spread of the disease and, hopefully, ultimately stop it from just continuing to cycle through our communities."•
Please enable JavaScript to view this content.