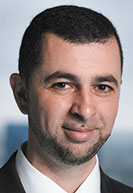 Indianapolis Controller Fady Qaddoura plans to leave his job with the city at the end of the year, Mayor Joe Hogsett's announced Friday.
Qaddoura, 39, has served as controller for the last four years. He has yet to announce what his next job will be, but he plans to run for the District 30 Indiana Senate seat to represent Marion County and Hamilton County residents.
A campaign kickoff is planned for Tuesday. The seat is held by Republican John Ruckelshaus.
The mayor's office gave credit to Qaddoura for helping "to oversee a successful financial strategy that resulted in three consecutive balanced budgets and multiple positive credit ratings."
Some Republicans have questioned whether the 2018 was actually balanced.
The city said Qaddoura helped save taxpayers $60 million in two years through a smart-sizing initiative, increased general-fund balances by more than $30 million and helped pay off more than $100 million in long-term debt. He also created a leadership development program for city employees.
Qaddoura has also served on several boards, most prominently the Marion County Criminal Justice Planning Council, the Early Prevention and Intervention Council, City-County Audit Committee, and City-County Investment and IT board.
In an email to IBJ on Saturday, Qaddoura said he has not yet finalized his plans for his career. He's "in conversations" with several local and national management consultancy firms, he said.
"I want to thank Fady for his work on behalf of the people of Indianapolis over the last four years," Hogsett said in a written statement. "He has served our community well, helping to bolster our city's finances through thoughtful smart-sizing initiatives, all while empowering our departments and agencies to make meaningful investments in public safety and neighborhood priorities."
Before joining the Hogsett administration during his first term, Qaddoura served as a senior manager of Health Care and Technology/Business Intelligence for the state of Indiana and helped with the expansion of the Healthy Indiana Plan 2.0.
In 2018, he was named CFO of the Year by IBJ. Last year, he was named to IBJ's 40 under 40 list.
Please enable JavaScript to view this content.