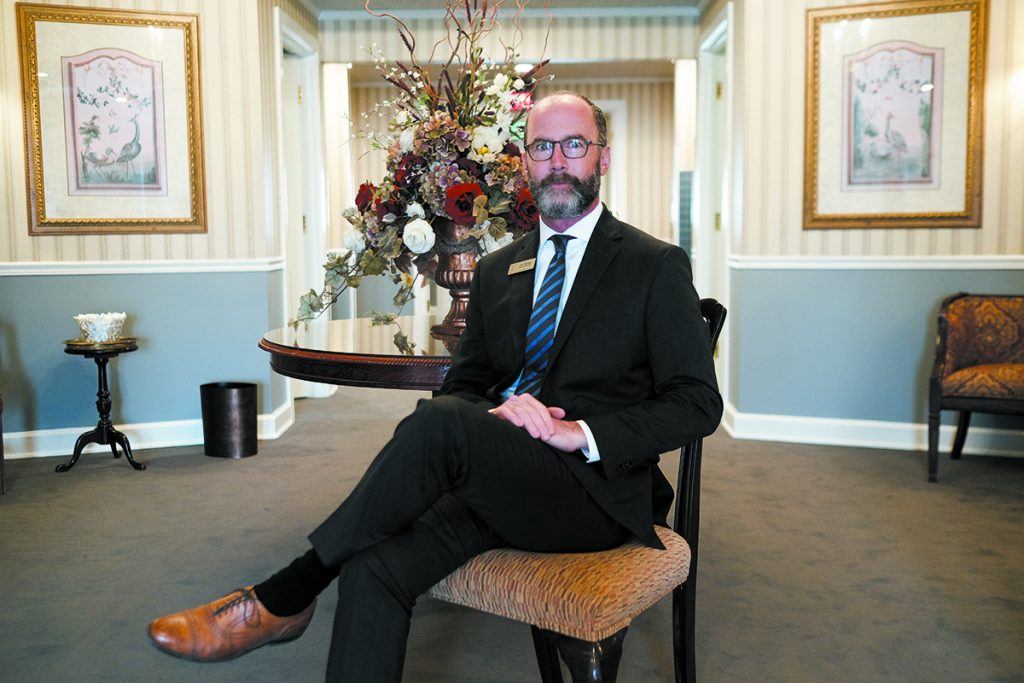 Jim Shirley is one small-business executive who isn't worried about a decline in business during the pandemic.
If anything, he's worried about a surge. Already, Shirley Brothers Mortuaries and Crematory has held funerals for people who have fallen victim to the coronavirus.
Shirley Brothers, which was founded in 1898 and has five central Indiana locations, has made several major operational changes in the last three weeks.
Due to the state's stay-at-home order and federal social distance guidelines, Shirley Brothers has asked all non-essential employees to stay home.
That means the company is operating with a skeleton crew of 12 workers. That's down from a staff of 60—full time and part time. Shirley said some of those part-timers are older, which puts them at higher risk for serious complications if they get the virus.
To keep Shirley Brothers clients and staff as safe as possible, only licensed funeral directors, embalmers and a handful of office staff are working. Some are pulling double duty as hosts and drivers.
Shirley Brothers is offering webcasted funerals, but Jim Shirley, who serves as vice president and is part of the fourth-generation leadership of the company, said no one—yet—has requested that.
"The longer we're in this social distancing and stay-at-home mode, I think the appeal of the webcasts will grow," Shirley said. "But with funerals, there's a real desire—and a need—to physically be together. That's part of being human."
Some families—especially those with out-of-town members—are putting off funerals for now. An embalmed corpse can be stored for a few months. But most are going forward with little delay, Shirley said, although some of those are choosing a small funeral now for immediate family and close friends with a larger celebration of life planned for after the pandemic threat dies down.
Shirley Brothers is asking customers to limit the group that comes into the office to plan the funeral to two people.
"It's not uncommon [under normal circumstances] to have a group of 10 to 12 people to come in for planning purposes," Shirley said. "For an occasion as important as a funeral, a lot of people in the family want to be involved."
Shirley, 50, has worked at the family business for 27 years. He said no one at Shirley Brothers has ever gone through anything like this.
Company officials looked through Shirley Brothers' records for reference to the 1918 Spanish Flu epidemic—which killed about 675,000 in the United States—but found none. And Shirley's father and grandfather never mentioned it. Shirley Brothers was founded by Jim Shirley's great-grandfather, Ottie Nelson Shirley.
"When the governor … said group meetings were limited to 50 or fewer, we knew we had to make immediate changes," Shirley said, adding that the majority of funerals at Shirley Brothers have more than 50 attendees.
Now, Gov. Eric Holcomb has mandated no gatherings of more than 10. So Shirley Brothers has kept a tight rein on allowing no more than 10 people in a showing room at a time and are careful about people congregating in the lobby. Shirley Brothers even eliminated its own staff meetings.
"This has certainly impacted the way families grieve together. It's caused families to step back and evaluate who will be allowed at the funeral service," Shirley said. "It's such a tough situation for a family to have to go through when everyone who is relevant can't come and help each other get through the grieving process. It's heartbreaking."
Shirley Brothers has put hand sanitizer at every door, spaced out seats 6 feet apart and upped the ante on an already rigorous cleaning regimen. At times, Shirley Brothers embalmers, drivers and funeral directors are wearing gloves, face masks and face shields.
"Our employees are washing their hands constantly," he said. "We're wiping down doorknobs, furniture, car doors and door handles, and anything else someone might touch, non-stop. Each night, the entire place gets a deep cleaning."
Behavior at funerals has also dramatically changed, Shirley said. "I don't know … the last time I've seen someone shake hands."
Social distancing is practiced among visitors at the funeral home and at the graveside services. A lot has been self-regulated. "People understand this is a serious situation," Shirley said.
But funerals are an emotional time, and some traditions hold.
"Close family members are still coming together in close proximity," Shirley said. "And I just don't know how you can totally remove the need to embrace at that time. It's one of the most basic human needs—to be surrounded by those we love to help us say goodbye to a [deceased] loved one.
"So, yes, we do still see the occasional hug. But it's mostly limited to close, close family members."
Funeral home employees face the concern of dealing with corpses of people who died of the highly contagious virus, and of interacting with family members who might have been exposed to it.
Shirley and his staff are cautious but undaunted.
"We always practice what's called universal precautions," he said. "We assume every [corpse] we deal with could be infectious. That's an industry standard we always follow. And, yes, we have to be vigilant in dealing with survivors of people who have died of coronavirus. But we're not going to let that keep us from doing our job—and doing it with compassion."
Please enable JavaScript to view this content.