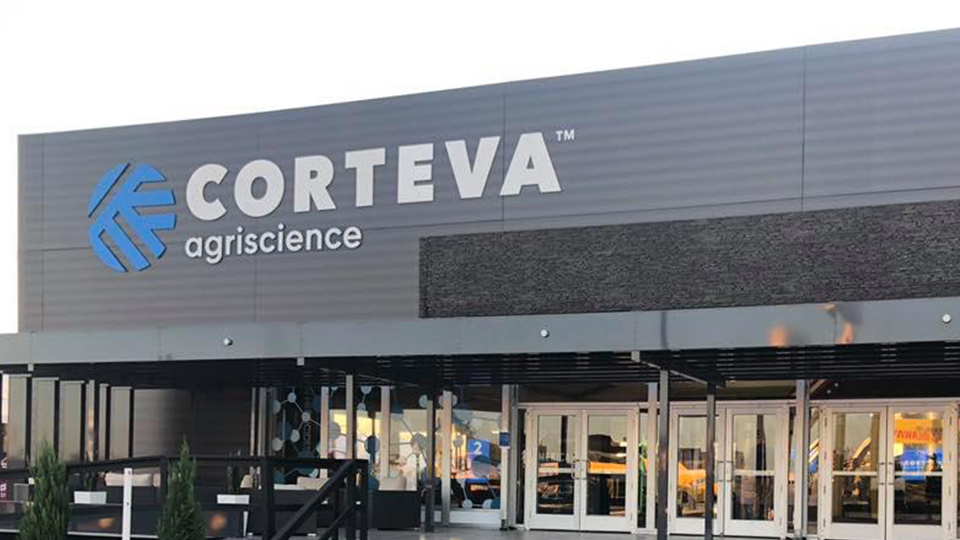 Corteva Inc., the Indianapolis-based seed and insecticide giant, is cutting 5% of its global workforce, or roughly 1,000 workers, as it reduces its portfolio of products and streamlines its operations.
The downsizing, announced to investors in September, is taking place this fall at Corteva operations worldwide.
A Corteva spokeswoman declined to say how many jobs would be impacted at the company's Zionsville Road campus, which has been a key player in Indianapolis' life science and technology circles for more than three decades, much of that time under the name Dow AgroSciences.
The company told IBJ in September it had about 1,400 employees here. That was down from about 1,500 in 2019.
The decrease seems to be contrary to Corteva's earlier-stated plans to boost its employee headcount here. In 2017, the Indiana Economic Development Corp. signed an agreement under which Corteva would "endeavor" to create 600 additional jobs by 2028 in exchange for up to $26 million in state tax credits.
So far, the state has paid Corteva about $4.5 million, according to the IEDC's transparency portal. The contract states the number of base jobs as 1,150, although that was lower than Corteva's employee head count during that time, which hovered around 1,500.
The state long pursued the company to move its headquarters to Indianapolis, a milestone that finally happened in February 2022. In a surprise announcement, the company said at the time it was designating Indianapolis as its global headquarters, effective immediately.
At the time, the company did not say whether additional operations or employees would move to its Indianapolis campus, located about 15 miles northwest of downtown.
The company had previously been based in Wilmington, Delaware, since its spinoff from parent DowDuPont in 2019.
The 248-acre Zionsville Road campus features 14 buildings, 42 greenhouses and dozens of labs, where workers devise new products to help farmers increase yield and control insects, fungus and unwanted vegetation.
In 2018, as Corteva was undergoing its corporate restructuring under DowDuPont, the City-County Council voted to give the company $30 million in incentives to stay. Corteva's only obligation was to keep a workforce of at least 1,385 here for 10 years.
Corteva spokeswoman Larissa Capriotti declined to say how many employees are now working in Indianapolis, or how deep the cuts will be here.
"We are not able to share employee headcount by locations, but Corteva will fulfill its commitments to both the city of Indianapolis and the state of Indiana," she wrote in an email.
A city spokeswoman said Corteva had 1,616 jobs in Indianapolis as of Feb. 22. "Corteva is currently in compliance," she told IBJ.
Corteva CEO Charles Magro told investors Sept. 13 the company is adjusting its strategy to do business in 110 countries, a reduction of about 35. He said the company was expecting to "deprioritize" several commodity products in crop protection and focus its seed market on corn, soybeans, canola, sunflower, cotton and other leading crops.
"So Corteva will  look much different," Magro said. "It will be a much more streamlined and simplified company."
Robert King, the company's executive vice president for crop protection, said the restructuring was meant to lower operating costs and be more competitive, among other things.
"Historically, we've tried to be everything, everywhere," he told investors in September. "So we'll narrow down where we're working."
The Indianapolis operation was started as Dow Elanco in 1989 as a joint venture between drugmaker Eli Lilly and Co. and Dow Chemical to produce agricultural products. Dow acquired full ownership in 1997 and renamed it Dow AgroSciences.
In 2015, Dow and DuPont announced plans to merge, then spin off into three independent companies. Four years later, the agricultural operations were spun off as Corteva, and Indianapolis was designated the headquarters this year.
Capriotti, the company spokeswoman, told IBJ the company was still committed to Indianapolis.
"Corteva Agriscience has a long history and strong presence in Indianapolis," she wrote. "Earlier this year, we designated Indianapolis as the global headquarters for Corteva, and the company believes it gives us the strongest foundation possible for sustainable growth over the long-term, which will in turn create long-term opportunities for those Corteva employees based in Indianapolis as well as other communities."
Please enable JavaScript to view this content.