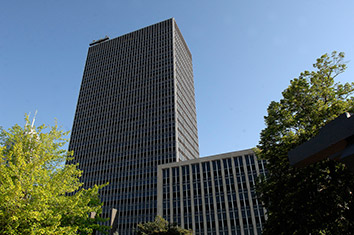 The Indianapolis City-County Council approved Mayor Joe Hogsett's $1.2 billion budget on Monday night, with much of the funding dedicated to public safety, the criminal justice system, and roads and bridge work.
The 2020 spending plan—which passed 22-2—includes $1.2 million to deploy body cameras for metro police, 2% raises for police officers and firefighters and $2.2 million for public safety communications technology improvements.
The budget will also let Hogsett raise starting salaries for police and fire recruits to $51,000 per year, an important move as the city struggles to fill its openings and build the Metropolitan Police Department to 1,743 officers.
"Tonight's bipartisan vote is the latest confirmation that our city is best served when we prioritize taxpayer-friendly policies and neighborhood investments over political games and partisan politics," Hogsett said in a written statement.
The city is expected to take in roughly $171,500 more than the budget spends. Officials say that makes it the city's third consecutive balanced budget since Hogsett—who is seeking re-election—took office in 2016.
The city expects to receive $371 million in property tax revenue next year, 4% more than last year. It also projects $354 million in income tax revenue, which is 1% more than last year.
Council President Vop Osili said that makes additional spending possible without raising taxes.
The budget includes $118 million for road, bridge and sidewalk infrastructure projects, $31.5 million for stormwater projects and a $1 million increase in capital funding for projects in Indy Parks.
There's also $1.5 million to create a second personnel shift for the Department of Public Works, part of a multi-year plan to create a model not unlike beat policing. The goal is to create teams of DPW workers that focus on smaller parts of the city and work with neighborhood leaders to determine infrastructure priorities.
"With investments in public safety, infrastructure, neighborhood development and economic development, the 2020 budget reflects an ongoing commitment to creating a better city," said Maggie Lewis, the council's majority leader, in a statement.
The plan will boost funding for public art by 10%, which city officials said is the first increase in city arts funding in more than a decade. It will also provide funding to boost staff at Animal Care Services, the Department of Business and Neighborhood Services and Department of Metropolitan Development. The city will also hire a compliance officer to help claw back public incentives from companies that fail to meet the investments they've agreed to.
The budget provides $300,000 for homelessness programs, which will help fund the Keys To Work partnership that has employed dozens of panhandlers in downtown Indianapolis. And it includes $500,000 for food insecurity initiatives (including the first step in a 25-year plan to fight hunger issues).
"This first-ever commitment will benefit our city's residents for generations to come, and my colleagues and I welcome the opportunity to engage with our neighbors on this important issue," Osili said.
Please enable JavaScript to view this content.