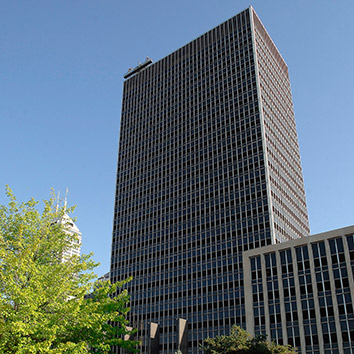 The Indianapolis City-County Council on Monday night passed a resolution calling on city government to paint a "Black Lives Matter" message on Indiana Avenue.
The council also introduced an ordinance that would establish a commission to study and review the social status of Black males in Marion County.
Both measures come about a month after the council declared racism a public health crisis in the wake of peaceful protests and violent riots following the police-custody death of George Floyd.
The resolution calls on city government, through the Department of Public Works, to paint a message condemning racism and inequality on Indiana Avenue "at an appropriate location" between West and Paca streets.
Indiana Avenue, one of seven designated cultural districts in Indianapolis, was historically a Black business, entertainment and population center.
"Government has an obligation to express its condemnation of racism and inequality, in official government speech, with a visible message—a message that will be clearly visible outside the walls of this Council Chamber," the resolution reads.
The resolution does not detail who would paint the message, how much it would cost or how it would be paid for.
Meanwhile, Proposal 199, which calls for the creation of the Indianapolis Commission on African American Males, has been referred to the council's Rules and Public Policy Committee.
The proposal has support from both parties, with Democrats and Republicans signing on to sponsor it. Mayor Joe Hogsett has also voiced support for the creation of such a commission.
The commission would consist of 11 members: two members of the council (one from each party); one member representing Health & Hospital Corp. of Marion County; one member of the local judiciary; two business people, including one who is Black or brown; the IMPD police chief or his designee; a youth member from a high school in Indianapolis; the mayor or his designee; a researcher affiliated with a college or university in Indianapolis and an educator from a K-12 school in Marion County.
The commission would be charged with conducting a systemic local study of the socioeconomic conditions of Black males and the reasons for the existence of those conditions, and with proposing measures to alleviate and correct the underlying causes of those conditions.
The commission would work with the State Commission on the Social Status of Black Males, which was established in 1993 to develop a strategic course of action to address negative circumstances that have contributed to the plight of Black males in Indiana, to achieve common objectives.
Annually, it would be required to submit a report to the council on its activity, findings, conclusions and recommendations.
Please enable JavaScript to view this content.