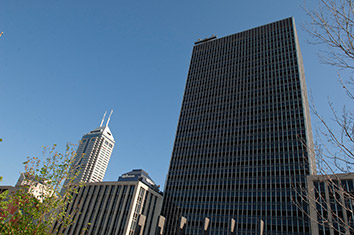 Members of the Indianapolis City-County Council's Rules and Public Policy Committee voted Tuesday to approve a 110% pay increase for council members.
The committee's vote came less than 24 hours after the increase was first proposed. The proposal now goes to the full council for consideration. The full council next meets on Dec. 9. Mayor Joe Hogsett, a Democrat, said he would veto the measure if it passes.
Members of the eight-member committee voted along party lines, with Mike McQuillen and Jeff Coats, both Republicans, voting against the measure.
As proposed, council members would see their pay increase to about $21,480 in 2020 and then about $25,000 in 2021.
Councilors are currently paid $11,400 annually, a salary set in 2002. Councilors would continue to receive per diems of $112 for each full council meeting attended (up to 21) and $62 for each committee meeting.
The pay increase was introduced Monday evening by Democrat Monroe Gray, drawing criticism from Republican members of the council who were critical of the timing. Democrats two weeks ago won six additional council seats in the election, giving them a super majority.
On Tuesday night, Coats reminded councilors that the money they're spending belongs to taxpayers before voting against the increase.
"This is not our money," he said. "Not everybody gets to vote themselves the opportunity to double their salary. I'm sure there are plenty of people in my district who wish they could do that."
Blake Johnson, a Democrat, said while he isn't thrilled with the proposal's timing, he recognizes there will never be a good time for councilors to give themselves a raise.
The current low pay, he said, might keep some qualified people from running for the council because they can't afford to do so. Being on council requires a large time commitment, meaning it's largely reserved for people who have flexible schedules, he said.
"By and large, serving on the Indianapolis City Council requires that you be retired, self-employed, independently wealthy, an executive of your organization or have a spouse that fits one of those profiles," he said. "That undeniable reality means far too often those without the flexibility are not granted a seat at this incredibly important table."
If the city wants to be inclusive, everyone needs the ability to lead and have their voice heard, Johnson said.
Several members of the public spoke during the meeting, all in favor of the increase.
Please enable JavaScript to view this content.