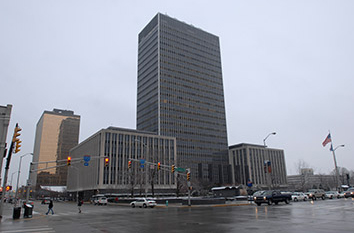 Indianapolis City-County Council Democrats have introduced a proposal that would more than double the base pay of councilors in 2020—a proposal Mayor Joe Hogsett said he would veto if passed.
The proposal was added at the last minute of Monday's council meeting and introduced by Monroe Gray, who introduced a similar proposal last year. He eventually tabled it after hearing concerns from fellow Democrats about the size of the increase.
As currently written, council member base pay would increase from $11,400 a year to at least $24,115 beginning in April. Councilors would continue to receive per diems of $112 for each full council meeting attended (up to 21) and $62 for each committee meeting.
The increase would give members a salary equal to 16% of the amount made by Marion County Superior Court judges, who receive $150,723 per year.
Gray told IBJ Monday night he believes he has the support needed to pass the measure and that now is the time to increase the pay, which he said has been stagnant throughout his 30-year tenure on the council except for small increases in the stipends councilors get for attending meetings.
But Hogsett said in a written statement he's prepared to veto the raise should it pass the council.
"The City-County Council has long been comprised of public servants that are generous with their time and energy in order to make Indianapolis a better place for all," he said. "While recent conversations about updating long-stagnant Council compensation are understandable, I have significant concerns about the substance and timing of this proposed change."
Hogsett did not specifically say what his concerns are. His office did not immediately respond to an email from IBJ seeking comment.
The proposal, which has been referred to the Rules and Public Policy Committee, comes less than two weeks after Election Day, when Democrats gained a super-majority control of the 25-member council.
When asked whether Democrats would try to override a Hogsett veto, which requires support from two-thirds of the council, or 17 members, Gray said Hogsett wouldn't want to have that fight.
"I think there are going to be 20 Democrat councilors, and I don't think this is a fight the mayor wants to start the year off with," he said.
The timing of the proposed pay increases also drew criticism from Marion County GOP members.
"Not even two weeks have passed since Democrats took super-majority control of city government, and they've wasted no time enacting their liberal, big-spending agenda," Party Chair Cindy Kirchhofer said in a written statement. "Today, Democratic Councillor Monroe Gray announced his intention to increase the salary of city-county councillors, and if it passes, it would go into effect just as his new majority is taking the reins."
"It's an early Christmas for the Democrats," outgoing Minority Leader Michael McQuillen added.  "This must be how they reward themselves for their electoral victories—with taxpayer dollars."
The council pay issue has been politically fraught for years. Democrats have met opposition before when they've tried to raise pay on the council, which is considerably less than in many other municipalities, including Carmel, where city councilors were expected to earn a base salary of $21,062 in 2019.
Last year, Gray introduced a proposal that would have paid councilors 17.5% of what judges earn, but Democrats eventually tabled the measure.
Council members voted in 2015 after the municipal election to give themselves a 44 percent raise, but the proposal was vetoed by outgoing Republican Mayor Greg Ballard. In early 2016, the council failed to overturn Ballard's veto.
And later in 2016, council Democrats tried again, only to eventually kill a proposal to double their pay without a discussion.
Please enable JavaScript to view this content.