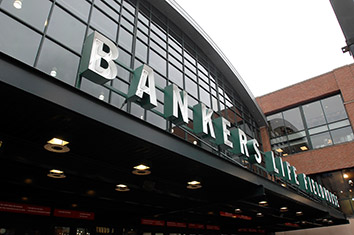 The Indianapolis City-County Council on Monday night unanimously approved two measures tied to planned renovations to Bankers Life Fieldhouse and the long-term retention of the Indiana Pacers.
The CIB in April agreed to allocate $270 million toward an overhaul of the fieldhouse as part of a 25-year deal to keep the Pacers in Indianapolis. The Pacers will contribute an additional $65 million to the renovation, while the city will chip in $25 million.
The council approved a measure allowing the CIB to issue up to $320 million in bonds, which includes a $50 million cushion for capitalized interest and debt reserve funds.
The CIB also plans to refinance its existing debt for the fieldhouse through a separate $140 million bond. Andy Mallon, the CIB's executive director, has previously told IBJ refinancing the old fieldhouse debt could avoid problems when the board takes the new bonds to market.
Council also authorized the CIB to move $29 million to its operating fund from a reserve fund flush with cash—about $133.6 million in unrestricted cash reserves in 2017.
About $20 million of that amount will be used for items tied to the fieldhouse project that must be paid before bonds are issued. The other $9 million will be used to pay back the state of Indiana for a loan it gave the CIB in 2009 to help it out of a financial crisis.
The  State Budget Committee still must approve a measure allowing the Indiana Treasurer's Office to loan the CIB money from the state's excess revenues starting in 2027. Any loan would have to be repaid with interest by June 30, 2038.
The group is expected to take up the matter when it meets Friday in Bloomington.
The city's Metropolitan Development Commission on Wednesday must also approve a formal project agreement between the city and the CIB for the city's $25 million share, which will come into play for public infrastructure later in the renovations.
The council has previously signed off on multiple other proposals tied to the deal, most related to the CIB's long-term strategic plans. Those include measures extending the life of certain taxes that fund the CIB and expanding what's known as the city's Professional Sports Development Area so it can capture tax revenue from nine additional hotels.
Please enable JavaScript to view this content.