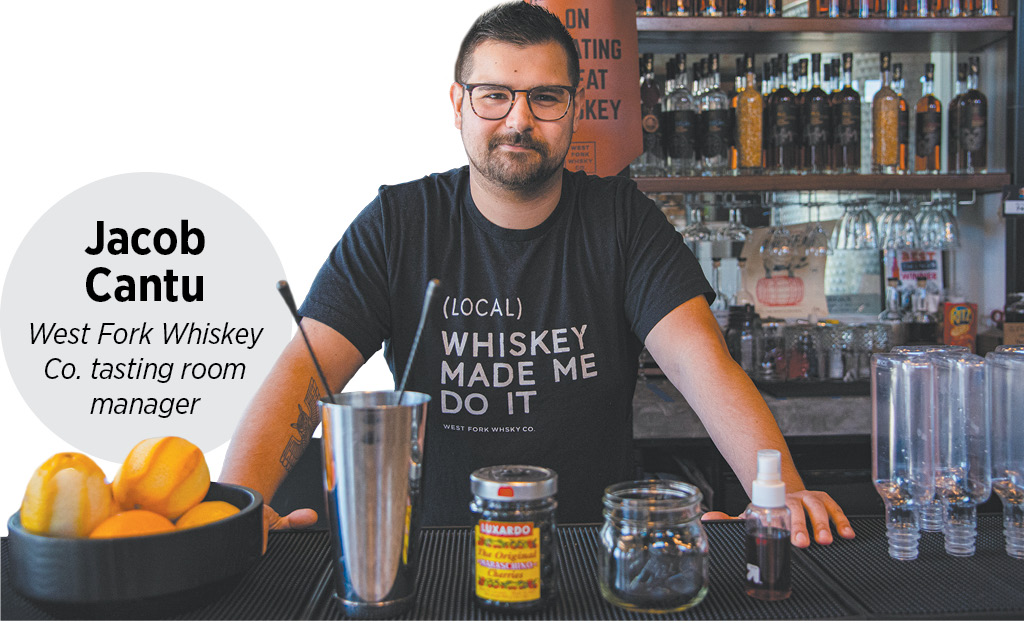 Since joining West Fork from the Indianapolis Marriott Downtown in August, 28-year-old Jacob Cantu has helped diversify the distillery's bar programming and spirits menu from a handful of varieties to dozens.
He also created the distillery's cocktail-to-go concept, which has been a significant boost to revenue amid the COVID-19 outbreak.
What steps has the distillery taken to make up for revenue lost to the COVID-19 closures?
So, we created these ready-to-mix cocktails called Quarantine Elixir Mixers, and sales of those have been going really well. They have a really unique artisanal, apothecary-style approach to them. They're all made-to-order, with all-natural ingredients that we make here in-house or source organically.
The staff and I don't like the idea of cocktails to go because cocktails are very delicate and sometimes don't hold up unless they're structured correctly. So, we designed this around that concept and extrapolated our ideas to combine the sugars and the bitters and the proper oils into bottles, without the alcohol.
That way, when customers get home, they can just take the bottle and mix it with whiskey using the provided instructions.
What has been the customer response?
When we started off, we didn't know how long it would last. But within the first three days, we got so much love from the community that we decided that we would just keep this going throughout the quarantine.
We've had well over 500 orders so far [as of March 30], including that huge initial response and support right on the first couple days, when we were cranking these out like crazy.
Aside from the mixers, what else are you guys doing?
We're still producing whiskey through all this, certainly—and it's selling fairly well.
Our whiskey production has seen a lot of off-premise sales. … Your liquor stores and grocery stores have been flying through a lot of the product, so we're still operating at full capacity right now. We're also selling a lot of West Fork merchandise and using our website for additional sales, including for the elixirs.
We're also responding to a community need for hand sanitizer, so we are looking at how many bottles will be needed and we're going to do a big donated batch to the people on the front lines of all this. But we're not going to mass-produce and sell it.
How has the elixir impacted West Fork's bottom line?
I don't feel at liberty to disclose the financials right now, for competition reasons, but I can say it's helped us maintain [revenue] we'd get from normal bar operations. That's allowed us to keep all of our employees in play and bring on two new employees to help with the added work.
How are you taking care of yourself through this crisis?
I am following a very strict routine, but the switch to a day shift from the night shift I was working before has been challenging. I've basically been trying to work out a little bit more just to make sure that my immunity is staying up. We've been making sure to sanitize everything as people are coming in and as they're leaving—no different than what we were already doing.
But I'm also making sure I'm keeping safe distances and not going out nearly as much. Other than to get groceries for myself and the distillery, I've pretty much isolated myself to my house outside of work.
My New Year's resolution was to not go out as much in 2020. I guess this answered that prayer for me.•
Please enable JavaScript to view this content.