What are you doing to improve your community and make things better for your stakeholders?
That's the big question that Cummins Inc. Chairman and CEO Tom Linebarger wants all executives to ask themselves.
Linebarger spoke at Engage Indiana 2019 on Friday morning at the JW Marriott and described what's called the "stakeholder model," emphasizing maintaining strong relationships with all stakeholders—employees, community leaders, corporate partners, government officials, shareholders, etc.—rather than only focusing on self-serving interests.
"We cannot only advocate for those things that enrich us individually," Linebarger said. "We have to advocate for systems that enrich all."
He said it's a long-term strategy for business leaders, because one day a stakeholder will be "key to your survival."
"I promise one of them will be the difference between you making it and you not making it," Linebarger said. "And the problem is you don't know which one."
To help illustrate his point about the need to serve entire communities, Linebarger shared his personal story about growing up in California and being on welfare and food stamps after his parents divorced. His mom went back to school, maintained a job and took care of him and his brother.
"She basically bootstrapped the operation to get us where we are today," Linebarger said. "My mom persevered against a whole bunch of tough odds."
He said providing a safety net should not be seen as a negative, because it can have a significant impact on the lives of individuals and families.
"Yes, I think people take advantage of it, and yes, I think people rise to the top of an organization because of it," Linebarger said.
Linebarger gave several examples of how Cummins follows this stakeholder model, such as paying all of its employees at least $15 per hour instead of the minimum wage of $7.25, even though he could do that and still find employees.
"When I pay the market wage, people can't live," Linebarger said.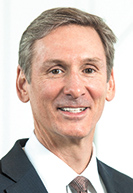 He also talked about how the company purposefully did not include a cafeteria in its downtown Indianapolis distribution headquarters, because they wanted employees to visit existing eateries, like those in neighboring City Market.
"Every community that we're in should be benefiting," Linebarger said. "They should be glad that we're there."
Cummins also has a program called Cummins Powers Women, which supports not-for-profits that empower women and girls across the world. Linebarger said he always hears other corporate leaders talk about how their company or their community would be better off with more female leaders, but the gender gap continues to exist.
"It's just ridiculous," Linebarger said. "It needs to stop. … So, all of us have to ask ourselves,
'What are we doing about that?'"
Attendees of the annual event, which is co-hosted by IBJ and the Indiana Economic Development Corp., also heard from four panelists about how companies and organizations can make a positive difference in the lives of their employees and surrounding communities.
Andy Medley, CEO and co-founder of PERQ, said small actions can have a big impact, like allowing a day of service every quarter for any employee who's interested in participating or partnering with the local school corporation.
He stressed that these are things any business can do.
"There's no excuse, regardless of size and scale," Medley said.
Indiana Chamber of Commerce CEO and President Kevin Brinegar, Indiana Philanthropy Alliance CEO and President Claudia Cummings and IU Kelley School of Business professor Amrou Awaysheh also spoke on the panel with Medley.
Brinegar echoed Medley's suggestion that any company can have an impact.
"Do something," Brinegar said. "And if you're already doing something, do more."
Also at the Engage Indiana event, IBJ honored Mark Miles, president and CEO of Hulman & Co., with the annual Michael A. Carroll Award.
The Indianapolis native has a diverse work record including serving as campaign manager for Dan Quayle's 1980 U.S. Senate campaign, CEO of Central Indiana Corporate Partnership, chairman of the 2012 Super Bowl Host Committee, president of the organizing body for the 1987 Pan American Games, and president and volunteer tournament director from 1985 to 1990 for the city's professional tennis tournament.
The Michael A. Carroll Award is given annually to a man or woman who has demonstrated the former deputy mayor's qualities of determination, humility and service. Carroll was among six people killed when two small planes collided over southern Marion County on Sept. 11, 1992.
Please enable JavaScript to view this content.