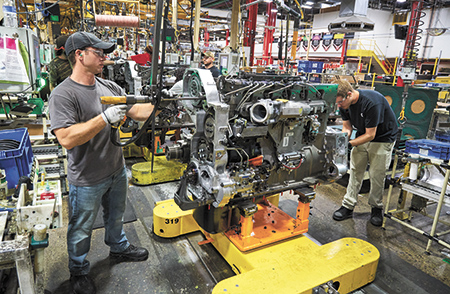 Columbus-based engine-maker Cummins Inc. plans to temporarily close its southern Indiana manufacturing sites beginning next week because of coronavirus-related business disruptions, the company said Saturday.
The move affects three facilities in Columbus and one in Seymour, Cummins spokesman Jon Mills told IBJ.
Affected employees will not be paid during the shutdown but they will retain their medical, dental and life insurance benefits for up to 90 days, Mills said.
Mills said Cummins plans to reopen the facilities May 4, or sooner if market demand permits.
"We appreciate the work and contributions these employees make and look forward to getting them back to work when we can," Mills said in an e-mail.
Cummins has about 61,600 employees worldwide, including about 10,000 in Indiana. The number of employees affected by Saturday's announcement was not immediately available.
This is the latest in a series of actions Cummins has taken over the past few weeks in response to the coronavirus and its associated business repercussions.
On Friday, the company announced that it would temporarily reduce the salaries of its U.S. employees by 10% to 25%. Those employees will also see a reduction in their work hours.
In addition, CEO and Chairman Tom Linebarger will take a 50% pay cut in his $1.5 million salary, and members of the company's board of directors will take a 25% pay cut.
Cummins plans to take similar actions for its employees who work outside the United States.
On March 20, Cummins announced that it was suspending production for two weeks at its Walesboro engine plant in Bartholomew County. That suspension, Cummins said, was because customer Fiat Chrysler Automobiles had suspended production at its plant.
Mills said Fiat Chrysler currently plans to reopen April 13.
Please enable JavaScript to view this content.