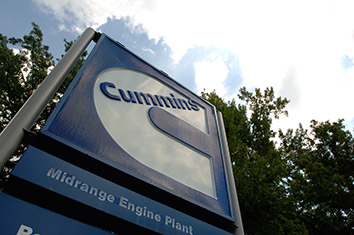 Cummins Inc. is cutting pay for its CEO, directors and U.S. employees in response to coronavirus-related economic disruptions, the company announced Friday.
The Columbus-based engine maker said it will temporarily reduce the salaries of its U.S. employees by 10% to 25%. Those employees will also see a reduction in their work hours.
In addition, CEO and Chairman Tom Linebarger will take a 50% pay cut in his salary. Members of Cummins' board of directors will take a 25% pay cut in compensation.
In 2019, Linebarger's salary was $1.5 million, as part of a total compensation package valued at $25.1 million.
Non-employee directors each received cash compensation of $125,000, plus $150,000 in stock. The lead director and committee chairs got extra compensation for those roles. The announcement did not say whether the cuts apply to the director stock grants.
Cummins said it plans to take similar actions at its locations outside of the United States, subject to local regulations and collective bargaining obligations. The company said the pay cuts are temporary and will be reassessed at the end of the second quarter.
Cummins has about 61,600 employees worldwide. The number of employees affected by Friday's announcement was not immediately available.
Hourly employees at Cummins' offices and technical centers will have their work hours reduced by 10%, or the equivalent of one-half day per week, Cummins spokesman Jon Mills said.
At the company's manufacturing sites and distribution branches, hourly office, shop and service technician employees won't be affected because their hours are determined by production volumes and service demand, Mills said.
On March 20, Cummins announced it was suspending production for two weeks at its Walesboro engine plant in Bartholomew County, although employees would continue to receive full pay during the shutdown. That suspension, Cummins said, was because customer Fiat Chrysler Automobiles had suspended production at its plant.
Please enable JavaScript to view this content.