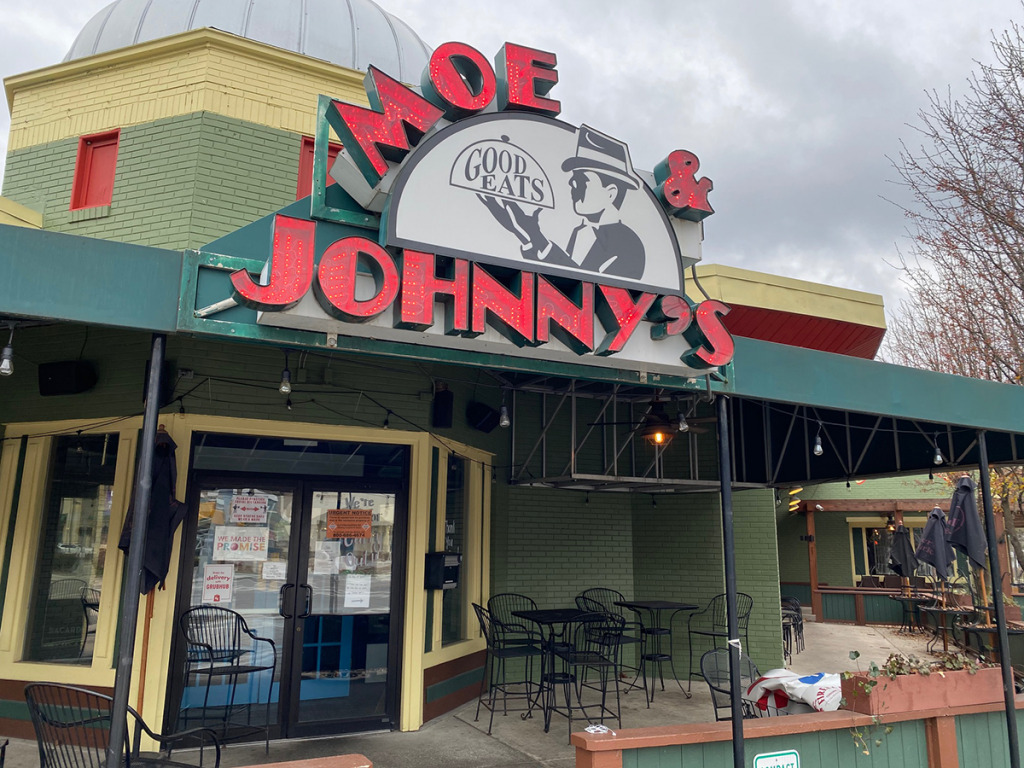 Moe & Johnny's, a longtime Meridian-Kessler sports bar and restaurant that announced on Facebook last month it was closing "until further notice," is at the center of an ongoing legal dispute between its current and former owners.
The original owner of the 26-year-old business, Chuck Mack, 75, sold Moe & Johnny's last year to Levi Kinney, 27, for $800,000, part of which was to be paid over time. But the deal has since soured, and Kinney and Mack have filed claims against each other in Marion County Superior Court.
Kinney is asking the court to let him out of the agreement.
"He wants to unwind the deal and get his money back," said attorney Peter French of Taft Stettinius & Hollister LLP, who is representing Kinney in both his claim against Mack and Mack's counterclaim against him.
The case began when Kinney and the Levi Kinney Group filed a lawsuit against Mack and M&J Management LLC, an entity for which Mack serves as president. Kinney filed his original lawsuit in July and amended his complaint in October.
Then, in November, Mack filed his own counterclaims against Kinney, the Levi Kinney Group and Beards and Bellies Restaurant Group LLC, the investment group that operates Moe & Johnny's.
According to Kinney's lawsuit, he and Mack met through a third party in April 2017, and the two men talked about Kinney's desire to someday own a restaurant. Mack hired Kinney that month to serve as a manager at Moe & Johnny's, 5380 N. College Ave.
In spring 2019, Mack offered to sell Moe & Johnny's to Kinney for $800,000 because Mack wanted to "get out of the restaurant business and into the landlord business," Kinney's suit alleges.
The deal was to include the restaurant's furniture, fixtures and equipment, its liquor license, and an option to purchase the restaurant building, Kinney's suit says.
The Levi Kinney Group was to pay M&J Management $25,000 in earnest money as part of a $225,000 downpayment, and would pay the remaining $550,000 on contract, according to an undated, one-page agreement signed by both parties and attached to Kinney's lawsuit.
But in February, Kinney alleges, he learned that Mack did not own the real estate on which Moe & Johnny's operates. Marion County property records show that the property's owner is 5400 College Ave LLC, an entity associated with John M. Bales II.
By this time, Kinney alleges, he and his business partner, Zachary Douglas, had paid $544,475 toward Moe & Johnny's. That total includes $264,000 toward the purchase price of the business, plus $30,956 in past-due bills for the business; $161,531 in building maintenance, repairs and improvement; and $87,988 in obligations for Cornerstone, a related restaurant of Mack's on the same property.
"The representations made by Mr. Mack to Mr. Kinney and later, his investors, about the opportunity to acquire ownership of the entire business, including real estate and improvements, was false, misleading and deceptive," Kinney's suit says.
Mack responded to the claims by filing his own complaint against Kinney, the Levi Kinney Group and Beard and Bellies last month.
In his suit, Mack says that the purchase agreement included the Moe & Johnny's business and its inventory, furniture, fixtures and equipment, but it did not include any real estate nor did it include any assets related to the Cornerstone business.
"The Mack family strongly disputes the idea that they (Kinney and his partners) were ever going to purchase the real estate. The real estate was never going to be part of the transaction," said attorney Hannah K. Joseph of Jeselskis Brinkerhoff & Joseph LLC, who is representing Mack in both the suit against him and his countersuit.
Joseph said the Macks also dispute Kinney's claims that he didn't know Bales owned the real estate.
"Any argument that Levi didn't know that there was a third-party owner was just false," he said.
Mack's suit alleges that in February, about three months after taking over Moe & Johnny's, Kinney and his partners stopped paying rent, insurance and property taxes to either Mack or 5400 College Ave LLC.
Joseph and French both said the one-page sales agreement filed with the lawsuit was the only written document outlining terms of the deal.
French said Kinney had put his trust in Mack and didn't have the life experience that might have led him to do his own due diligence on the deal.
Once Kinney learned the property's true owner, French said, Kinney met with Mack several times in an unsuccessful effort to work out a lease-with-purchase agreement for the site.
Additional documents pertaining to the sale were to have been filed, Joseph said, but that never happened once the dispute between Mack and Kinney arose.
"The fact that they (Kinney and his partners) decided they wanted the real estate made it incredibly difficult to work out an agreement to purchase the business," Joseph said.
As the dispute lingered, Mack put Moe & Johnny's liquor license into escrow this fall, which meant the restaurant could no longer sell alcohol.
Under the terms of the purchase agreement, Joseph said, Kinney had the right to use Mack's liquor license and gaming permit until he had paid the full $800,000 purchase price for the business. After that, Mack was to transfer the permit to Kinney.
But Joseph said Kinney had failed to take the legally necessary actions to use the liquor license, so Mack put the license into escrow as a protection.
In addition to asking the court to allow him to back out of the Moe & Johnny's purchase, Kinney is asking the court for damages in an unspecified amount, plus interest, court costs and attorney fees.
In his countersuit, Mack is asking, among other things, for the court to appoint a receiver to operate Moe & Johnny's until either the parties can reach an agreement or the legal claims are resolved.
When Moe & Johnny's announced its closure on social media last month, the business appeared to hold out the possibility it might reopen, saying "…we have decided to close our doors entirely until further notice."
The uncertainty means it's hard to know how the legal dispute will play out, Joseph said. "Right now, we're kind of keeping all options on the table. It really will depend on what Beards and Bellies decides to do."
Please enable JavaScript to view this content.