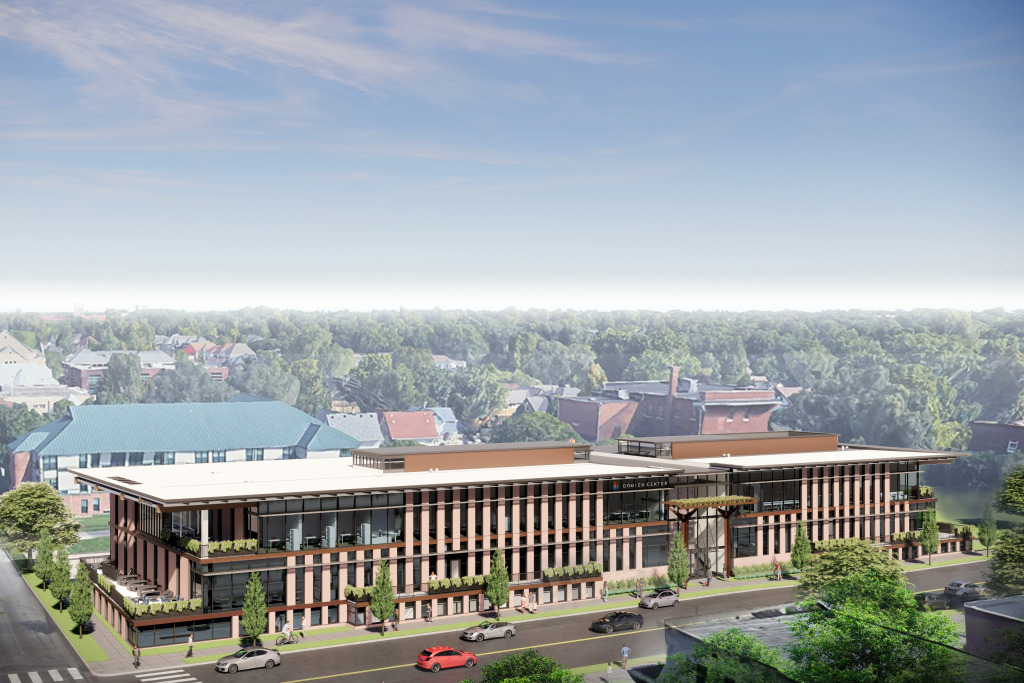 Damien Center, Indiana's oldest and largest AIDS service organization, said Monday it is publicly launching a $4 million capital campaign to help fund a new headquarters building on the east side.
The not-for-profit organization said it has outgrown its existing 15,000-square-foot headquarters building at 26 N. Arsenal Ave. due to heavy demand for its services and programs.
It plans to build a new, 56,000-square-foot headquarters building on a vacant lot at the corner of East Washington Street and Oriental Avenue, adjacent to its campus.
Alan Witchey, Damien's president and CEO, said the staff has grown from 40 to about 150 over the past four years, and is now working shoulder-to-shoulder inside the cramped building.
"We have people with offices in closets, and in the hallways," he told IBJ. "We have, in one room where you might normally see one office, four people working."
Damien Center has already raised $3.2 million toward its $4 million fundraising goal through a quiet phase of the campaign that it began in 2021, Witchey said.
Last year, Damien Center served 5,771 people, or about double the figure from five years ago, with a wide variety of care, programs and services for those affected by HIV, which stands for human immunodeficiency virus.
The virus weakens a person's immune system by destroying cells that fight disease and infection. There is currently no effective cure for HIV, but with proper medical care, HIV can be controlled, according to the U.S. Centers for Disease Control and Prevention.
The Indianapolis area is home to about 2,000 people who know they have HIV but have fallen out of care, and another 1,000 people living with the virus who don't know they have it, Witchey said.
"So that's about 3,000 people who are not in care," he said. "And we cannot accommodate those people here, so we absolutely need more space to help solve this HIV epidemic here."
He said the new space would allow Damien Center to engage 2,000 new clients within the first year of occupancy and serve 300 new families each month through expanded food and nutrition programs.
According to the U.S. Center for Disease Control, some groups of people in the U.S. are more likely to get HIV than others because of many factors, including their sex partners and risk behaviors.
Of the estimated 34,800 new cases of HIV in the U.S. in 2019, 70% were among gay, bisexual and other men who reported male-to-male sexual contact. About 22% were among people who reported heterosexual contact, and 7% were among people who inject drugs, the CDC reported.
Among the officials scheduled to attend the campaign kickoff Monday were Mayor Joe Hogsett; Dr. Virginia Caine, director of the Marion County Public Health Department; and Claire Fiddian-Green, president and CEO of the Richard M. Fairbanks Foundation, which has pledged a matching gift of up to $500,000.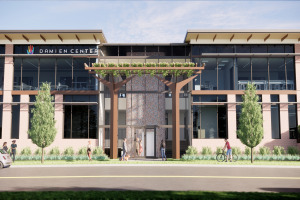 Construction of the new headquarters is expected to officially begin next spring and be completed by the end of 2024. Design and construction for the project is being led by Axis Architecture and the Skillman Corp.
The new building will include administrative offices, exam rooms, new dental and vision services, a lab and an expanded food pantry and pharmacy. Damien Center also plans to expand its youth programming, housing, prevention and harm-reduction programs and introduce up to 10 new programs and services.
The new facility will create a multibuilding Damien Center campus. The organization said it will continue to use its current building, and has also purchased nearby property previously operated by Zonie's Closet, a gay bar at 1446 E. Washington St., which closed last month. Damien Center said it is studying uses for that 4,500-square-foot building, possibly including workforce training center.
Damien Center is expanding in other directions, too. In March, it acquired a three-story, 11,200-square-foot office building at 3909 N. Meridian St., which was former home to the Society of Professional Journalists, for more than $1 million.
Damien Center plans to use the building as a satellite office location until the new headquarters is completed, then clear out the administrative offices and transform the building into service hub for clients.
The organization had operating revenue and public support of $19.4 million last year, up 65% from 2020.
Damien Center, founded in 1987, launched its last capital campaign 15 years ago, when it raised $2.4 million to fund capital improvements to its current building.
Please enable JavaScript to view this content.