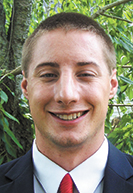 Age: 27
Hometown: Westfield
Residence: Indianapolis
Family: single
Education: bachelor's degrees in accounting and management from Purdue University
Political experience: none
Career: oversees operations and accounting for Miami-based Concise Capital Management
Why he's running: Every one of my five pillars: rights of the unborn, government debt, Second Amendment, term limits and education.
Top priority: all five pillars
What he's streaming: "Law & Order: Special Victims Unit"
Q&A
What do you think needs to be done to improve access to and the affordability of health care?
The easiest way to make health care more affordable is to increase the number of companies in the industry. That leads to an increase in competition, which generally leads to two outcomes: a decrease in price and an increase in quality. We need to decrease the barriers to entry for new companies, shed regulations that increase overhead expenses and open the industry to the free market.
What should be done to address the massive amount of student debt in this country and make college more affordable?
If you have student debt, it is your responsibility to pay it off. You may not pay it off overnight, but over time you will. I have been in this situation. I graduated from Purdue University with almost $20,000 in student debt and paid it off in 11 months. I was living on my own, with zero financial help from anyone, and making less than some first-year teachers.
To make college more affordable, we need to open other opportunities to pursue after high school and stop the federal government from underwriting student loans. Market and advertise apprenticeships and trade schools to the younger generations. With the decrease in demand, universities should decrease their cost of tuition.
What is your position on trade and tariffs?
Trade and tariffs are great ways to protect domestic goods, services and industries and at the same time benefit from goods, services and industries that are not viable in our country.
What should be done to address climate change?
With climate change, you really have to look at the facts. With regards to the rising temperatures and rising sea levels, both have been rising since the last ice age and have been relatively constant throughout the 20th century. The reason "on record" is added to these statements is because the record starts in the 1880s. It completely discounts any history prior to the 1880s. Even with the polar ice sheets melting, the expansion of the Antarctic ice sheets more than offsets this.
Please enable JavaScript to view this content.