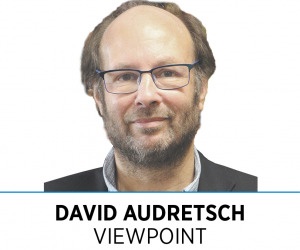 Americans' shopping preferences have changed. Indiana residents would often walk to the five-and-dime in the past, and we made many more trips to the mall. Today, those visits are less frequent, yet many traditional retail stores are thriving.
According to a just-published myth-busting study I co-authored, it seems that, while shoppers and sellers have wholeheartedly embraced digital commerce, the demise of brick-and-mortar retail—to paraphrase Mark Twain—is highly exaggerated. This new information is important to small-business owners, Indiana's local governments, investment analysts and antitrust enforcers, whose conclusions about the viability of markets can make or break companies and industries.
Our report—"Super Selling: How Contemporary Small Businesses Reach Consumers and Sell Products"—documents the complexity and fluidity of modern retail while also clarifying one ever-lasting truth: The customer is still king.
At the dawn of the e-commerce era, pundits fretted about channel conflict—the angst created when manufacturers sell through traditional retail stores and online. Today, channel conflicts and competition are rampant because sellers and retailers alike are chasing consumers all over town and all over the internet. The report identified eight different sales methods, including traditional physical wholesale and retail, operating one's online webstore, and online marketplaces like eBay or Amazon.
What's changed in the last 20 years is that the customer-king has become considerably more sophisticated. This study reveals how small businesses have adapted, some brilliantly.
Among 368 Midwestern small businesses surveyed (including in Indiana), roughly 75% rely on traditional retail and wholesale channels to reach customers, and nearly 90% use at least two selling methods. Almost 50% of Midwestern small sellers use at least five selling methods—and most of these also use competing channels within sales methods. Real-life data simply doesn't align with the views of headline writers and antitrust economists who erroneously believe small-business sellers lack choices, particularly online, in their efforts to reach consumers.
For local governments and real estate interests, this research confirms what some already surmised: Downtowns and physical retail stores are here to stay and are booming in some towns and cities. Nearly three-quarters of sellers nationally that rely on only one sales method use traditional retail and wholesale. And modern sellers are energized by selling online in addition to operating a traditional storefront, as they expand beyond their neighborhood and serve local and remote customers simultaneously.
The data is important for Attorney General Todd Rokita, U.S. Rep. Victoria Spartz and their colleagues who focus on antitrust and competition. There is a theme pushed by the anti-big-tech crowd that small sellers cannot escape the "Amazon monopoly." But more than 84% of Midwest-based Amazon sellers report that they also sell on other online marketplaces, including 57% on Walmart, 45% on eBay, and 32% on Target. A remarkable 86% of Midwestern Amazon sellers also sell from their own branded webstore, so it's no wonder that Shopify now powers more than 1.7 million online stores.
As small sellers gained experience, they learned the value of diversifying across multiple sales methods and opened their web stores to compete with their own Amazon and Walmart stores. Diversity creates resiliency, steadier growth and more optimism.
Online shopping already feels ubiquitous, and it is growing. But e-commerce is not simple, small businesses are increasingly sophisticated, and their decisions demonstrate that no single mode of connecting with consumers will ever be the king—because the consumer will always be king.
Policymakers can benefit by following the facts and the data—and we can all learn by following consumers, just as retailers are doing with increasing sophistication and enthusiasm across many competing options every day.•
__________
Audretsch is a distinguished professor and economist at the Indiana University O'Neill School of Public and Environmental Affairs and is editor-in-chief of Small Business Economics.
Please enable JavaScript to view this content.