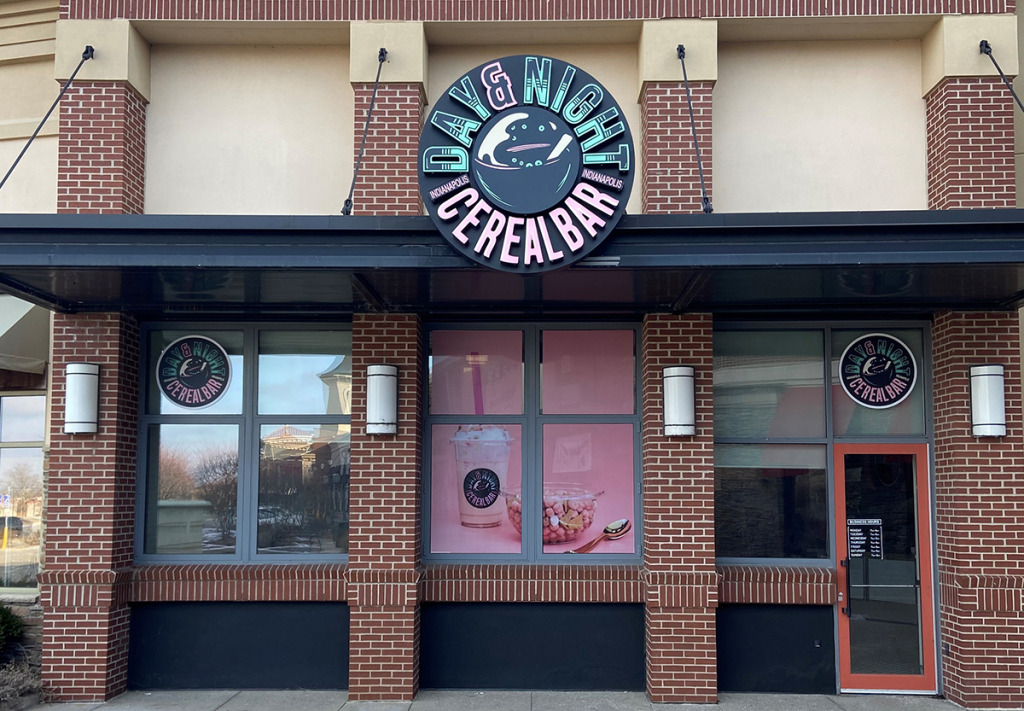 Day & Night Cereal Bar, a breakfast-focused eatery with a West Coast connection, is set to open Feb. 13 at Greenwood Park Mall.
The establishment will occupy an exterior-facing space formerly occupied by Johnny Rockets, in the same part of the mall where Dave and Busters and Bar Louie are located.
Day & Night's menu is built around sugary cereals like Lucky Charms, Froot Loops and Cocoa Puffs with a variety of toppings including whipped cream, caramel and gummy bears. Customers can order cereal in bowls (a combination of two or three cereals, plus milk and toppings); shakes (one or two cereals blended with ice cream); and cereal waffles (waffles with cereal mixed into the batter). The establishment will also offer a selection of house-made juices and lemonade.
"We're really excited. Everything is coming together pretty fast," said Kyle Wimberly, 34, of Indianapolis, who is the chief operating officer of the Greenwood location.
This will be the first Indiana location for Day & Night, which opened last summer as a food truck in Los Angeles.
Wimberly learned about Day & Night through a friend who happens to be a roommate of Karman DuPree Jr., co-owner of the Los Angeles operation.
Wimberly flew out to visit his friend last year, checked out the food truck and "fell in love instantly" with the concept. He is partnering with longtime friend Ericka Butler on the Greenwood site, with Butler as the franchise owner and Wimberly as its operator.
He said he's hoping to open another five Day & Night locations by Thanksgiving, although he hasn't yet decided where they will be. He's open to both the Indianapolis area and other cities inside and outside of Indiana.
A Warren Central High School graduate, Wimberly has spent the last decade or so as a mobile hawker—one of the people who roam the stands at sports events and concerts selling concessions.
In that job, Wimberly said, he's had the chance to work at venues around the U.S. and hone his sales and marketing skills.
"When you're a mobile hawker, you're your own business," Wimberly said. "I know what products sell, what products don't sell."
He's incorporating a bit of that promotional sensibility into Day & Night. For instance, the establishment will have a "photo op wall" where customers can take a selfie and post it on social media to receive a discount on that day's purchase.
The Greenwood site will be open from 11 a.m. to 7 p.m. Monday through Thursday, 10 a.m. to 9 p.m. Friday and Saturday and 11 a.m. to 6 p.m. Sunday.
Please enable JavaScript to view this content.