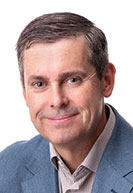 David Ricks, CEO of Indianapolis-based drugmaker Eli Lilly and Co., is turning up the volume on his concerns over a new law that would allow Medicare, for the first time, to negotiate drug prices.
On June 13, Ricks appeared on CNBC's "The Exchange" to say the law might harm development of certain drugs by prompting drugmakers to invest more money in drugs not covered by the law.
"I'm really worried about the harm this will do to new cures and possibilities in medicine," he said.
A day later, he told investors at a webinar hosted by investment bank JP Morgan that the law, which President Biden signed last summer, has already caused Lilly to lower priority on several experimental drugs, although he didn't name them.
"I can tell you, after nine months, there are three fewer Lilly drugs," Ricks said.
Left unsaid, however, was the likely major hit to revenue and profit for Lilly and other drugmakers—along with the potentially large savings to older Americans and taxpayers, estimated by the Congressional Budget Office at $102 billion over 10 years.
It's a huge moment for the health care system. Allowing Medicare to negotiate drug prices is something the industry has fought for decades and that consumer groups and patient advocates have pushed for.
Medicare is the single largest purchaser of prescription drugs in the United States. Its vast programs cover more than 3,500 prescription drugs. In 2020, Medicare spent $198 billion on drugs for senior Americans—everything from blood thinners to cancer drugs.
For nearly 20 years, federal law has prohibited Medicare from negotiating drug prices, and the government program had to pay the price companies set.
That began when Congress passed Medicare Part D in 2003, which provided drug benefits to seniors but explicitly barred Medicare from negotiating with drugmakers. That law, which was passed with the support of the drug industry, went into effect in 2006.
Now that prohibition over price negotiations is rolling back in a historic victory for patient groups and a huge setback for the pharmaceutical industry.
Drugmakers realize that if the law moves forward as scheduled, they will face new territory and stand to lose untold revenue, said Nicolas Terry, executive director of the Center for Law and Health at Indiana University Robert H. McKinney School of Law.
"The Rx industry lobbying fight is so intense [because] this is the first breach in the wall," he wrote to IBJ in an email. "The Rx industry likely knows that if this stands, it will be a model going forward."
Health journals are calling this a watershed moment for drugmakers.
"The reform is a stunning defeat for the pharmaceutical industry, which has invested a staggering amount of money to get its way in Washington," wrote STAT, a medical news site, in August 2022 as Congress was on the verge of approving the law. "… Allowing Medicare to negotiate drug prices has been the sector's third rail for two decades."
Facing price controls
Ricks is just the latest pharmaceutical executive to criticize the law, known as the Inflation Reduction Act, which is setting the stage for Medicare to haggle over the price of 40 drugs in three stages from 2026 to 2028. More drugs will be on the table in future years.
The law does not specify which drugs will be up for price negotiation first, other than to say they will be "high expenditure" drugs that must have been on the market at least seven years (for chemical drugs) or 11 years (for biologics). These drugs also must be single-source, with no generics available.
Based on that, one of Lilly's top sellers, the diabetes drug Jardiance, is likely to be among the first 10 drugs Medicare will negotiate, in 2026, based on analyses published in two prominent health journals, Health Affairs and the Journal of Managed Care and Specialty Pharmacy.
Jardiance rang up sales last year of $2.1 billion for Lilly and $6.1 billion for German partner Boehringer Ingelheim.
Lilly's top-selling drug, diabetes and cardiovascular medicine Trulicity, is likely to be on the negotiating table by the third year, the journals reported. Trulicity had sales of $7.4 billion last year.
Medicare will announce in September which 10 drugs it has selected for the first round of negotiation. In the meantime, it is rolling out a schedule for public comments and feedback from interested parties.
The stakes are huge for the pharmaceutical industry, as well as for patients and taxpayers. It's the largest substantial change to U.S. health policy since the Affordable Care Act became law in 2010.
Indeed, the industry is not taking this whole affair lying down. Already, two U.S. drugmakers—Merck and Bristol Myers Squibb—have sued the Biden administration, asking a federal judge to declare the program unconstitutional and prevent the Health and Human Services Department from forcing them to enter negotiations.
A collection of health care groups, including the National Infusion Center Association, the Global CancerAssociation and trade group Pharmaceutical Research and Manufacturers of America, last week filed a joint suit asking for a permanent injunction against the drug pricing program.
They claim the "system of price controls" will drastically slow innovation, reduce drug availability and worsen patient outcomes.
"America leads the world in pharmaceutical and biotechnology research," the complaint said. "… It takes billions of dollars and years of effort to develop a single drug or therapeutic product. Anyone willing to invest those resources must take on extraordinarily unfavorable odds."
It said that of all the experimental drugs to enter clinical trials, only 12% get approved by the U.S. Food and Drug Administration. And of those approved, only one in five will generate revenue that exceeds the average cost of developing a medicine.
There's little doubt who will feel the crunch when price reductions go into effect. Moody's Investor Services reported last year the reduced prices will be "generally borne by the industry."
But industry critics say the pharmaceutical sector enjoys both high sales and high profits and can afford to enter negotiations to save money for older Americans on Medicare.
The pharmaceutical drug industry brought in revenue of $1.48 trillion last year, according to research firm Statista. It had a profit margin of 18.4%, the 15th-highest of any industry, according to a study by New York University and Yahoo.
Among those currently taking prescription drugs, one in four say they have difficulty affording their cost, including about one-third who take four or more prescription drugs, according to the Kaiser Family Foundation.
The law is complex and wide-reaching. In addition to allowing Medicare to negotiate prices on 10 drugs this year (and 15 in each of the next two years, then building to 20 in succeeding years), the law caps out-of-pocket costs at $2,000 per year for seniors on Medicare.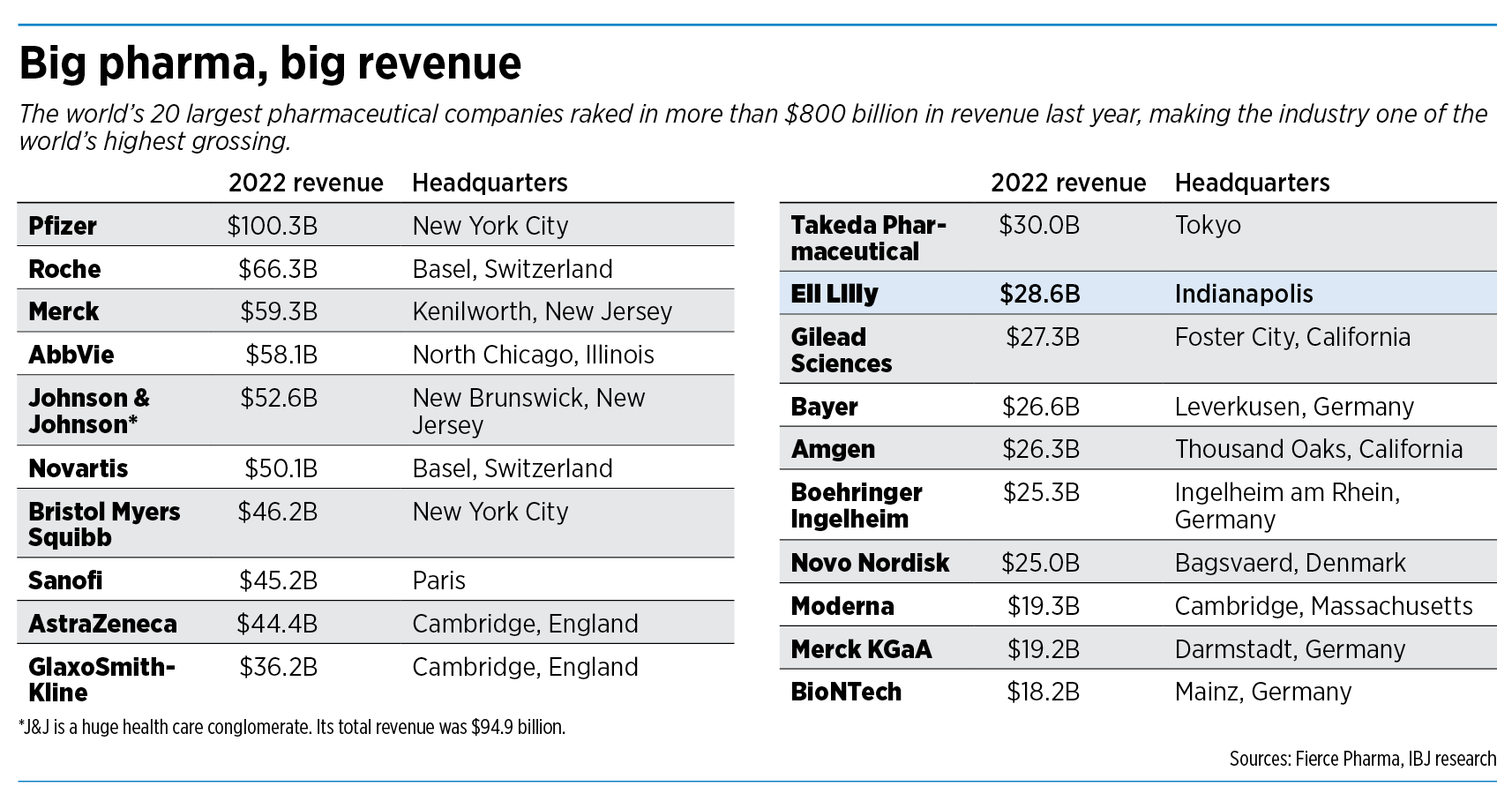 Benefits for consumers
A wide assortment of consumer and patient-advocacy groups is hailing the Inflation Reduction Act's drug pricing reforms, saying they will lead to significant savings for older Americans.
The law "will give a lifeline to people struggling with health costs by providing much-needed financial relief for the health coverage and medications they need to survive and thrive," said the Center for American Progress, a left-leaning think tank in Washington, D.C.
Patients for Affordable Drugs, an independent advocacy group, said the costs of medicines can be crushing. Out-of-pocket costs for some specialty drugs under Medicare can run $15,000 per year or more, while the median income for Medicare beneficiaries is less than $26,200 a year.
A group of 28 organizations representing millions of patients and consumers is applauding the law, saying it takes important steps toward ensuring that Americans can afford their medicines.
Pharmaceutical companies raised prices on nearly 1,000 drugs in January, according to 46brooklyn, a not-for-profit that researches drug prices.
Overall, U.S. drug prices average 2.56 times those seen in 32 other nations, according to a 2021 Rand Corp. report.
Under the law, Medicare will apply "negotiated maximum fair prices" for a small group of widely used drugs. To be included in the group, the "small molecule," or chemical, drugs must have been on the market at least nine years, and the "large molecule," or biologic, drugs for more than 13 years.
Small-molecule drugs, which make up more than 90% of the medications on the market, are synthesized by chemical reactions between different compounds. Examples include AstraZeneca's Crestor for cholesterol and Otsuka's Abilify for schizophrenia.
Large-molecule drugs are produced in biotechnical processes and are derived from living sources. They make up a much smaller group, but some of the world's most popular drugs, like AbbVie's Humira for inflammation and Genentech's Rituxan for cancer, are biologic.
A drug loses eligibility for inclusion in pricing negotiations when a generic or biosimilar has been approved and marketed for at least nine months.
Lilly makes its case
Lilly, which makes a wide assortment of drugs for cancer, diabetes, autoimmune disorders and other diseases, declined to make Ricks or another senior official available for an interview with IBJ. Instead, it issued this statement:
"Lilly supports provisions in the Inflation Reduction Act that bring financial relief for many seniors, including the cap on out-of-pocket costs at $2,000 per year and the $35 monthly cap on insulin which Lilly first pioneered."
It continued: "However, we are concerned with other provisions that will have a detrimental impact on biopharmaceutical innovation and patient access. In particular, the [law] allows Medicare to set prices at nine years for small molecule medicines compared with 13 years for large molecule biologics. This disparity has no scientific or policy rationale and will disincentivize small molecule drug discovery in favor of other drug platforms. Small molecule medicines play an important role in treating cancer, neurological conditions, and many other diseases—and are historically less expensive than biologics. Lilly believes that at a minimum the IRA should be improved by creating parity at 13 years for both small and large molecule medicines which will be to the benefit of patients."
And in his appearance this month on CNBC, Ricks spent several minutes explaining why Lilly was opposed to allowing Medicare to negotiate prices.
He said the law will provide huge disincentives to invest in experimental, small-molecule drugs, which he called "one of the most efficient parts of health care."
"We'll get fewer of the [small-molecule drugs] because investors are already saying to me, 'Why would you invest in more small molecules when biologics get 13 years before negotiations?'" according to a CNBC transcript.
At this point, the biggest question for drugmakers is which products will get on the short list each of the next three years. They will have to hold their breath for a few more months. The Centers for Medicare and Medicaid Services is soliciting "stakeholder input" through September of which data to include in its considerations.
And that group of stakeholders is likely to be large, Medicare acknowledged in a January memo. That's because almost everyone is likely to have a stake in the outcome.
"CMS will work closely," the agency wrote, "with patients and consumers, Part D plan sponsors and Medicare Advantage organizations, drug manufacturers, hospitals and health care providers, wholesalers, pharmacies and others."•
Please enable JavaScript to view this content.