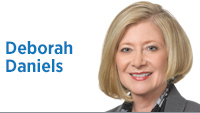 Thanksgiving weekend is a time for reflection.
For me, it is also an occasion on which I visit my late parents' place of entombment at Crown Hill cemetery and update the seasonal silk flowers that I maintain there. After Thanksgiving, I change the fall flowers to poinsettias in celebration of the Christmas season. I do this to show respect to my parents and to spend a few minutes in quiet reverence and remembrance.
This season, events have led me to remember in particular some important lessons that were ingrained in me by my parents and to realize that not everyone seems to have been as fortunate as I to have learned those lessons.
For example, they taught me selflessness and a concern for others.
I have continued to be puzzled and disturbed by the resistance of many people to wearing masks as we face a deadly pandemic of staggering proportions. No one can dispute at this point that the virus is transmitted from one person to another by means of respiratory spray: As you exhale, you spread the virus in the air around you.
Scientists tell us that even a cloth mask that is 50% effective significantly reduces the likelihood of infection. They tell us that universal masking, coupled with social distancing, would greatly reduce the spread of the virus and save countless lives as we wait anxiously for a vaccine.
But the numbers instead are skyrocketing. In Indiana, as of Dec. 1, more than 350,000 people had been infected, and more than 5,600 had died. Hospitals and health care workers are approaching the saturation point where heart-wrenching decisions might have to be made to deny some people care.
The mask is, in part, for the protection of the wearer but is primarily to protect others from the mask wearer, who might have the virus but be asymptomatic. Yet we continue to see many people actively resisting encouragement, pleas, exhortations and, finally, mandates to wear masks.
Our General Assembly declined to mandate masks for legislators, who will be meeting inside, in close quarters, for hours at a time during the 2021 legislative session—and expelling a lot of air as they discuss and debate. With respect, I feel that requiring masks should be a no-brainer for anyone who considers himself or herself a servant of the public and concerned about the well-being of others.
My parents also taught the virtues of self-denial and delayed gratification.
My husband and I, based on soaring infection rates and good advice from both scientists and the public officials who heeded them, made the difficult decision to forgo Thanksgiving dinner with our family—something to which we always look forward and enjoy. But this year, we decided it wasn't worth risking anyone's life, and we cooked our Thanksgiving dinner at home, for just the two of us.
As Gov. Eric Holcomb exhorted the public to do, we chose to stay at home to help ensure that, next year, we would all be alive to celebrate together.
I was stunned to see the number of people, in Indiana and throughout the country, who flouted the strong recommendations of the scientists. I saw footage on TV of people crowding the airports and airlines—the risk to themselves and others be damned.
My parents also warned against hypocrisy. But we saw the mayor of Denver tell his constituents to stay home, then get on a plane to spend Thanksgiving with family.
I count my blessings for the valuable lessons my parents taught. I wish everyone had learned them.•
__________
Daniels, a partner at Krieg DeVault LLP, is a former U.S. attorney, assistant U.S. attorney general, and president of the Sagamore Institute. Send comments to ibjedit@ibj.com.

Click here for more Forefront columns.
Please enable JavaScript to view this content.