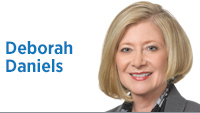 Volumes have been written on the subject of the polarization of American politics. Additional volumes have been written on the captivity of candidates from both major parties to the extreme factions of the electorate.
That captivity occurs because those who vote in primaries are almost exclusively the true believers on each side. With moderates failing to vote, and those with extreme views making up the electorate, candidates must embrace one extreme or the other, depending on party affiliation, in order to win their party's nomination.
Coupled with the fact that most congressional and state legislative districts are "safe" for one party or the other, this means that those far-left or far-right candidates are almost guaranteed a win in the general election once they survive the primary.
This is why we have seen so many Republican candidates over the last few years trying to "out-Trump" one another, proclaiming that they believe the repeatedly debunked "big lie"—that former President Trump really won the 2020 election, but rampant vote fraud cheated him of his victory.
This is also why House minority leader and aspiring speaker Kevin McCarthy, who was initially appalled by the Jan. 6, 2021, storming of the U.S. Capitol and the president's role in it, quickly gravitated back to Trump in the hope of attracting support from his far-right-wing caucus.
These dual phenomena—and the fact that stoking that particular false narrative is a powerful way to raise money from the far-right base—is the only possible explanation for the lightning-fast metamorphosis of congresswoman Elise Stefanik. Stefanik, once a leading traditional Republican conservative who spoke her own mind and sometimes disagreed with the former president, is now one of the strongest pro-Trump voices in Congress. Her vociferous loyalty to Trump has earned her a leadership position as well as a huge war chest.
The result of all this has been government by extremists, on both sides of the aisle. This kind of government in which compromise is viewed as surrender has led us to the very dysfunctional situation we are in today as a nation.
What can be done to temper the trend?
Some say court-ordered redistricting will solve the problem, but I'm not sure that's a panacea. Redistricting is supposed to group together communities of interest; these days, our voting populace is so polarized that they don't even live in the same places. It certainly can make a difference in areas like Hamilton County, where, for example, state Senate District 31 is very competitive. Kyle Walker, a thoughtful, moderate Republican, should win in that district over his progressive/liberal opponent, though the race is reportedly a virtual tie.
Some propose term limits, but I don't think that solves the problem either. The parties will just elect another extremist to replace the term-limited extremist.
In Utah, they're trying something else. The Democratic Party has not put up a candidate against Republican right-wing U.S. Sen. Mike Lee; instead, it is supporting independent candidate Evan McMullin. The Democrats cannot win in ruby-red Utah, so the best they can hope for is McMullin, who promises not to caucus with either party. Apparently, the race is running neck-and-neck, and Lee is running scared. If McMullin wins, he will have the kind of extraordinary clout in the Senate held by Sen. Joe Manchin.
Maybe this is the future solution: Elect more independents. Government tempered by the independents, who won't let the parties go too far toward either extreme, could bring back some balance.
Maybe it's worth a try.•
__________
Daniels, an attorney with Krieg DeVault LLP, is a former U.S. attorney, assistant U.S. attorney general, and president of the Sagamore Institute. Send comments to ibjedit@ibj.com.

Click here for more Forefront columns.
Please enable JavaScript to view this content.