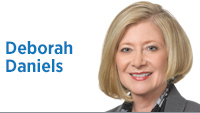 The recent demonstrations in Indianapolis, as elsewhere in the country, have ignited much discussion, and not just about police treatment of minorities. In fact, to limit the discussion to policing does a disservice to a much larger issue.
The protests are also about high Black unemployment; disparities in educational opportunity; the unavailability of adequate housing, healthy food and healthy environments to those of lesser means; poorer health outcomes for Blacks; and the interrelation of those factors.
Data indicate that 115,000 households in Marion County earn no more than 80% of the area median income ($57,520 for a family of three) and also are required to pay more than 30% of their annual income for housing. They are prime candidates for foreclosure and eviction, which will rise to epic rates when the state moratorium on evictions is lifted.
Unemployment among Blacks is two to three times higher than for whites, and some 28% of Black families in Indianapolis live in poverty.
Blacks achieve a post-secondary degree or certificate—the kind of education needed to obtain a well-paying job—at a much lower rate than whites. Only 53% of Blacks in Indiana, as compared to 61% of whites, graduate high school and enroll in college; 16% of Blacks, versus 25% of whites, achieve a college degree.
A lack of quality housing, access to healthy food and a healthy environment in disadvantaged neighborhoods contribute to poor health outcomes for those of limited means, who are disproportionately Black. Blacks have higher rates of hypertension, leading to heart disease; higher death rates from cancer; and higher maternal and infant mortality rates than whites.
Now layer on all this the impact of the novel coronavirus. Blacks have been hit far harder than whites by the pandemic, at many levels.
First, the largest number of job losses related to the pandemic has been in the service and hospitality fields, and those jobs are disproportionately filled by Blacks with insufficient education to obtain more stable, higher-paying work. According to economic analysts, 30%-43% of the job losses will be permanent.
Second, the impact of the virus has been far more severe for Blacks. In Chicago, Blacks are 30% of the population but accounted for more than 50% of COVID-19 cases and 70% of deaths. In Indianapolis, the Black death rate has been twice that of whites. Health disparities, already stark, are exacerbated by the pandemic.
The problem seems so massive that we wonder where to begin to achieve equity among the races. There are in fact many things we can do as a community, but it won't be easy.
In education, we must stop assigning lower expectations to underprivileged children. This is a sure recipe for poor outcomes and will disadvantage those children throughout their lives. Quality pre-K is essential for both children and parents prevented from earning a living due to child responsibilities at home. Improved transportation infrastructure is needed to access good jobs.
Corporate leaders must set a tone of diversity, equity and inclusion, then do the hard work to ensure that their companies walk the talk. Words alone are not enough.
Finally, the leadership of our community must become more diverse to effect real change. White community leaders must act in full partnership with Blacks and be willing to give up some power toward that end. No one should speak of "giving" Blacks a seat at the table; that itself is offensive.
Every one of us can make a difference, and every one of us has an obligation to do so.•
__________
Daniels, a partner at Krieg DeVault LLP, is a former U.S. attorney, assistant U.S. attorney general, and president of the Sagamore Institute. Send comments to ibjedit@ibj.com.

Click here for more Forefront columns.
Please enable JavaScript to view this content.