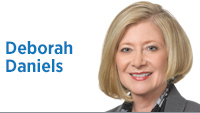 It looks as though the COVID virus will be with us for a long time—perhaps forever, somewhat like the flu virus. The analogy is imperfect, though, as the flu kills very few people and we have now lost more than 800,000 nationally to COVID, over 19,000 of which are deaths that occurred in Indiana.
Vaccination plus mask wearing in public is still the best way to avoid getting infected or infecting others. Yes, there are breakthrough cases—in fact, despite my caution, I tested positive on Christmas Day. This threw a wrench into our holiday plans; my husband and I had to forgo celebrating the holiday with my family and cancel a long-planned trip to Florida over New Year's.
What did not happen: I didn't become severely ill. I was not hospitalized. I did not die. In fact, my symptoms were minor, which I attribute to the fact that I had been fully vaccinated and had received a booster in October. Others not yet boostered have been hit harder, and the data shows that, both nationally and statewide, the vast majority of those who are sick enough to require hospitalization—or who die—are unvaccinated. A 46-year-old political rising star in California (unvaccinated) recently died from the virus shortly after militating against vaccine mandates at a public rally.
The omicron variant is new and not yet capable of definitive analysis, but preliminary data suggests that, while far more contagious than its predecessors, it might produce milder symptoms.
However, given the strain on our hospitals, we can't feel too reassured. Intensive care beds are at an all-time low: As of early January, it was reported that less than 10% of ICU beds were available statewide, and that number is declining as more people are infected. Hospital capacity overall, including staff capacity, is at the breaking point. Indiana University Health has even requested help from the Indiana National Guard to assist with non-medical patient care.
Right now, you would be well-advised to drive carefully and avoid extreme sports—this is no time to be in an accident or to have anything else go wrong that requires hospitalization. And if you or a loved one has a compromised immune system or a chronic illness, you are in for a frightening and potentially tragic time.
We could mitigate this situation by adhering to the Christian ethic, likely reflected in all religions, that we should put the welfare of others first. We must do everything we can to stop the spread of the virus in the interest of protecting everyone in society, even as we endeavor to keep our economy open. I am bewildered by the number of purported Christians who, in the name of personal rights, insist on endangering others' lives.
In addition, to keep the economy open, we have to protect employees. The last thing we should be doing is preventing employers from protecting their employees by requiring vaccination. But that seems to be what some legislation introduced in the current session of the General Assembly is aimed at accomplishing.
I sincerely hope that members of the General Assembly will make the right decisions in this literal life-and-death situation.
But we also must increase the availability of testing. It's suddenly nearly impossible to get tested. This is as important as prevention and treatment. We've made the vaccines available; what has happened to the testing supply chain? Another federal "Operation Warp Speed" is needed, immediately.
Without addressing the problem on all fronts, rationally and with urgency, we can't beat this thing.•
__________
Daniels, an attorney with Krieg DeVault LLP, is a former U.S. attorney, assistant U.S. attorney general, and president of the Sagamore Institute.

Click here for more Forefront columns.
Please enable JavaScript to view this content.