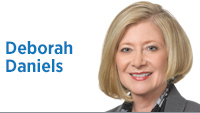 Commentators routinely decry the seeming tendency of political candidates to abandon long-held beliefs to get elected. Many lack the courage to entertain views that deviate from the party line or to take a principled stand on a controversial issue.
It is a joy to see that Gov. Eric Holcomb is not one of those candidates.
No one can question Holcomb's conservative bona fides. He worked for staunchly conservative former 8th District congressman John Hostettler, was a top aide to former Sen. Dan Coats and was former Gov. Mike Pence's choice as lieutenant governor. During former Gov. Mitch Daniels' tenure, he served as chair of the Indiana Republican Party. He is a solid conservative.
But Holcomb stands out among conservatives for a speech he made in August, one that received national media attention. He acknowledged that our nation's history, and that of our state, has been one of inequity and exclusion. He said, "I'm talking about cases of racism—sometimes obvious, sometimes subtle—that have led to inequity and exclusion, that have plagued our country throughout our storied history."
He said we have failed as a nation and state to live up to the promise of our Declaration of Independence. He talked about Jim Crow laws, lynchings, and a lack of equal opportunity for Blacks, from our schools to our health care system. And he added, "[We've] seen a number of unarmed Black men and women killed, culminating in an officer kneeling on the neck of Mr. George Floyd for 8 minutes and 46 seconds until his last breath was snuffed out."
The governor made clear that acknowledgement of our past is not enough. He laid out an agenda that includes appointing the state's first chief equity, inclusion and opportunity officer; dismantling government policies and practices with discriminatory effect on Blacks; and reviewing police training curriculum delivered by the Indiana Law Enforcement Academy, specifically focused on use-of-force policies, de-escalation training, and implicit-bias training.
Some dismissed his comments as a late entry into anti-racism or as insincere. But his record shows a clear pattern on this issue.
In 2016, the Indiana Republican Party platform—strongly influenced by the wishes of the gubernatorial candidate—said, "[We] acknowledge that … racial tension persists as a troubling blemish upon the soul of our country and state … [we] are acutely aware of disparities both in reality and perception. …. [R]acism, in any form, is harmful. … [W]e determine to assume the mantle of leading the people of our state toward racial reconciliation … ."
Less than a month after taking office, the governor pardoned Keith Cooper, who was wrongly convicted of armed robbery in 1997 and served eight years before being released on the promise that he would stop challenging his conviction. The governor, after careful review, had no hesitation in pardoning Cooper, an innocent man, and righting a long-lasting wrong.
Throughout his term, the governor has worked with the Family and Social Services Administration to focus on social determinants of health, wrestling with the conditions that cause poor health outcomes for Blacks.
Sadly, some Indiana conservatives have criticized the governor for doing what is so clearly the right thing, some denying that racism even exists and others questioning his conservative credentials.
We should all be grateful to the governor for recognizing that racism is not a political issue. It is a wrong that must be righted—by acknowledging inappropriate policies and correcting them—as uncomfortable as that process may make us. Indiana will be a better state as the result of his leadership on this critical issue.•
__________
Daniels, a partner at Krieg DeVault LLP, is a former U.S. attorney, assistant U.S. attorney general, and president of the Sagamore Institute. Send comments to ibjedit@ibj.com.

Click here for more Forefront columns.
Please enable JavaScript to view this content.