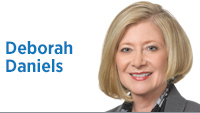 Many people who have heard that Gov. Holcomb appointed a Public Health Commission in 2021 might not be entirely sure what the term "public health" means.
The easiest way to grasp the concept might be this: The treatment people receive in health clinics and hospitals accounts for only about 20% of the factors that affect life expectancy. The rest is determined by health behaviors, such as diet and exercise, tobacco and alcohol use; a person's physical environment; and various socioeconomic factors that impact a person's health.
Some factors that directly impact individuals' well-being are outside their control; many, like wellness education, school-based services, and equal access to health care, can be affected by government intervention and assistance. Public health addresses these factors.
The commission's report contains some startling statistics, including this: Though Indiana over many years had managed by 2010 to increase its average life expectancy by 25 years (to age 77.5), Hoosiers' life expectancy has been on the decline since then, dropping from 26th in the country in 2010 to 40th by 2019. And there are significant disparities in life expectancy from county to county.
Sadly, Indiana ranked 41st in the nation in the 2019 U.S. News and World Report rankings for overall health outcomes.
The individual rankings contributing to that score are even more concerning: Measures of air and water quality and pollution (the "natural environment") put us at 48th in the nation. Other rankings include: 41st in the country for smoking, 40th in obesity, 38th in infant mortality, 41st in early adult mortality, and 35th in mental health—itself a factor in physical health.
What should our motto as a state be? "Hey, at least we're not dead last?"
It cannot be coincidence that we were also ranked 41st in spending on public health. Indiana's per capita spending on public health in 2019 was $55; the national average was $91.
What damage is caused by our failure to address comprehensively the health of our population? According to the commission report, obesity and diabetes account for over $8.4 billion in productivity losses among our employed population. Chronic diseases like heart disease, diabetes and kidney disease (many trackable to obesity and smoking) are the leading causes of death and disability in the state, resulting in costs of $75.5 billion per year. Smoking leads to nearly $3 billion in health care costs annually, including $590 million in Medicaid costs.
The solutions proposed by the commission include a $240 million annual increase in public-health-related spending by the state. It would seem to be a reasonable trade-off for those who control the purse strings: Spend $240 million a year, save hundreds of millions in Medicaid costs alone and potentially billions overall, vastly improve the productivity of our workforce, and improve our economy. It's not that simple, of course; Legislators need to target expenditures strategically. And they must understand that this is a generational commitment, not a two-year fix.
Importantly, former Indiana Sen. Luke Kenley is advocating for this significant increase. He was known to be—well, frugal—when he chaired the Senate appropriations committee. But he has had the opportunity to take a deep dive into the data and has been converted on this issue.
The advocacy of a fiscal conservative like Kenley should convince his former colleagues that significant changes are needed. Again, care is required to ensure that only workable, impactful solutions are put in place; but taking bold steps, now, on public health is crucial to Indiana's future success.•
__________
Daniels, an attorney with Krieg DeVault LLP, is a former U.S. attorney, assistant U.S. attorney general, and president of the Sagamore Institute. Send comments to ibjedit@ibj.com.

Click here for more Forefront columns.
Please enable JavaScript to view this content.