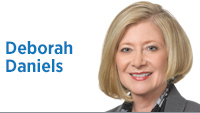 Some activity in the current legislative session looks a lot like legislative overreach.
Maybe our state legislators are reacting to accusations hurled at Congress over the past four years that it abdicated its constitutional duties in failing to check the executive branch of government. Maybe legislators genuinely believe they need to intervene to cure what they see as government overreach by others.
But I see strains of "don't tread on me" and science denial, along with some sentiment that legislators must save Hoosiers from the other, less enlightened, branches of government.
There appears to be a libertarian aspect, reflected in efforts to restrict the state's ability to regulate wetlands and building occupancy in private businesses. The latter has stood the test of time and been universally acknowledged as necessary—for example, state fire marshal restrictions to protect us from the threat to life posed by overcrowded venues. And the former is necessary to prevent flooding, of which this state already has more than its share.
But there's more.
Several bills are clearly inspired by the civil unrest that occurred last spring in Indianapolis and by a displeasure or distrust on the part of some lawmakers with the conduct of government in Marion County. One bill seeks to have the state take over the Indianapolis Metropolitan Police Department—a singularly terrible idea. Another brings back the old chestnut, defeated in multiple prior legislative sessions, of giving the Indiana attorney general prosecution powers so he can take over jurisdiction if he doesn't feel a local prosecutor is being tough enough.
HB 1519 might be of greatest concern to me. It would potentially emasculate the law passed after the 9/11 terrorist attacks that gives the governor and local government executives the ability to take prompt action in the event of a public emergency in the interest of protecting Indiana residents.
This bill purports to be based on libertarian principles but is flavored with science denial—its author actually was quoted by a news outlet as saying, "In reality, we really aren't sure if masks work." Perhaps he is personally not sure masks work to prevent virus transmission; if so, it's only because he is ignoring clear science. Check the Mayo Clinic website if you don't trust the CDC.
I understand that legislators feel they should have input in decisions that affect the lives of Hoosiers. The problem is in the very definition of "emergency" and that the Legislature by its nature is incapable of the nimbleness required in emergency situations.
I am also concerned about a Senate Joint Resolution that would significantly shift control over the selection and retention of judges to the political actors in the General Assembly. While I have great respect for its author, I do not believe the system would be well served by injecting politics into what is intended to be an objective determination based on merit.
Both these proposals would likely require legislative intervention at times when our part-time Legislature is not in session. Recognizing that judicial vacancies occur at various times throughout the year, the judicial-selection resolution calls for the convening of a special session of the Legislature every time the governor makes such an appointment. At an estimated cost of $35,000 a day, this is wasteful as well as unnecessary.
Somehow, despite the introduction of some ill-considered bills, each legislative session tends to turn out rational enactments in the end. I'm hoping this year will be no exception.•
____________
Daniels, an attorney with Krieg DeVault LLP, is a former U.S. attorney, assistant U.S. attorney general, and president of the Sagamore Institute. Send comments to ibjedit@ibj.com.

Click here for more Forefront columns.
Please enable JavaScript to view this content.