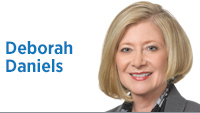 As a former U.S. attorney and assistant attorney general for the U.S. Department of Justice, I have great respect for the department and for the Federal Bureau of Investigation. But I have been horrified to learn of the way in which the FBI responded to allegations of athlete sexual abuse by Larry Nassar, the now-disgraced predator and convicted child abuser who acted for years as a doctor for young gymnasts.
I have previously and publicly criticized the prior leadership of USA Gymnastics for valuing medals over athlete well-being for many years.
However, when the former leaders of USA Gymnastics actually tried to do the right thing, it was the FBI who let down scores of athletes, some of whom were, tragically, first victimized only after the FBI became aware of the allegations.
I understand why USA Gymnastics went to the FBI, because of the far-flung geographic reach of the crimes. But federal jurisdiction is quite limited. The FBI is a large, bureaucratic and often slow-moving organization, and most of the agents in the FBI's 50 various field offices have limited experience with child victims of sexual violence.
The FBI has a Violent Crimes Against Children (VCAC) Unit and trains some agents in this specialty area. But despite that, and the fact that the supervisory special agent who acted as the Indianapolis case agent was the supervisor of the office's VCAC unit, his failures allowed Nassar to continue to victimize as many as 70 young athletes from July 2015 to August 2016.
As I read the report of the DOJ's Office of Inspector General, I was appalled at the hubris and ignorance of the agent, as well as his complete lack of any apparent concern for the victims of Nassar's ongoing criminality. His entire focus was on whether federal jurisdiction existed, and if so, whether venue was proper here or in Michigan.
Even when he was told to transfer the matter to Michigan, the agent failed to do so. He and another agent actually interviewed Olympic gymnast McKayla Maroney by phone from thousands of miles away, rejecting an offer by USA Gymnastics to fly her to Indianapolis for an in-person interview that could have involved a trained child abuse interviewer. If you heard McKayla's recent testimony before Congress, you know how wrenching and traumatizing an experience this was.
Having botched the interview and further traumatized the victim, the agent proceeded to multiply his errors. He failed to document McKayla's interview; failed to conduct any further interviews; failed to forward the case to Michigan as instructed by the U.S. Attorney's Office; failed to offer McKayla any victim services; and failed to report the allegations to local law enforcement in Michigan, where Nassar continued to serve as a physician for young female gymnasts at a college, a high school and a private gym. He also failed to report to local law enforcement in Texas, the location of the Karolyi Ranch where the Olympic athletes regularly trained and where the first reports were made.
The agent's subsequent actions, and those of the prior Indianapolis Field Office leadership, were focused on protecting their own reputation, not protecting child abuse victims.
I still have great respect for the FBI as an institution, and I applaud Director Chris Wray for his decisive response to the OIG report. But as he concedes, there was absolutely no excuse for the agency's actions—and inaction—in this case. I weep for the girls and women Nassar abused, many of whom could have been spared that fate by a more vigilant FBI.•
__________
Daniels, an attorney with Krieg DeVault LLP, is a former U.S. attorney, assistant U.S. attorney general, and president of the Sagamore Institute. Send comments to ibjedit@ibj.com.

Click here for more Forefront columns.
Please enable JavaScript to view this content.