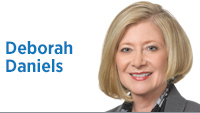 I have expressed criticism on these pages during the recently recessed session of the Indiana General Assembly regarding what I believe to be inappropriate legislation, mostly in the nature of legislative overreach into the management of executive-branch functions.
However, there is one particular area in which our state legislators have served the public extremely well, and in a bipartisan manner. That is with regard to police reform, exemplified by the terms of House Enrolled Act 1006.
The act is significant both for substantive reforms and for the bipartisan process that led to its passage. Republican Rep. Greg Steuerwald, a longtime legislative leader on criminal justice reform, did a stellar job of crafting the bill with colleagues and moving it forward with strong support on both sides of the aisle. Democratic Sen. Greg Taylor of Indianapolis, the Senate minority leader, told The Indy Star that the Indiana Black Legislative Caucus "met with thousands of activists, police officers and residents" after the community unrest last summer and found overwhelming support for the provisions in the bill that has now been enacted.
The law makes a number of changes governing the training and activities of law enforcement officers. Importantly, it defines a chokehold as a form of deadly force, thus severely limiting the conditions under which officers are permitted to employ it. The law also makes it a crime for an officer to turn off his body camera with the intent to "commit or conceal the commission of a criminal act."
One of the provisions of the act most likely to be impactful is the requirement of de-escalation training, both to train recruits and to provide in-service training for existing officers.
Policing experts confirm that, absent this training, confrontations that could have been defused have a tendency instead to build up to the point where people unnecessarily get hurt. Often, it is not the initial confrontation, but rather the escalation of the situation, that has led to the injury or death of civilians—and perhaps officers as well.
Take the recent case of Army Lt. Caron Nazario, who was ordered by Virginia police to pull over for a traffic stop, at least in part because they did not see a license plate on his car. He drove to a well-lighted gas station before stopping—any Black male driver can tell you why—and repeatedly asked, "What's going on?" In response, the officers drew their guns, threatened him with the death penalty ("You're fixin' to ride the lightning, Son."), and pepper-sprayed him at close range. He could easily have been shot as the situation continued to escalate.
HEA 1006 also requires Indiana's law enforcement agencies to obtain the employment file of candidates for employment, including disciplinary actions, from all agencies previously employing them. It also makes those files public records. This will protect people from bad officers who leave one jurisdiction only to be hired elsewhere.
The board of the Indiana Law Enforcement Academy now has the power to suspend or decertify an officer who commits a criminal act suggesting dangerousness or a propensity to violate the law, even if (s)he is not charged with or convicted of the crime. Police agencies are required to report disciplinary actions, and resignations in anticipation of discipline, to the academy. And the academy is required to post publicly and report all officer decertifications to a national database.
Our legislators should be congratulated on this major advancement in policing. Good officers and civilians alike will benefit as a result.•
__________
Daniels, an attorney with Krieg DeVault LLP, is a former U.S. attorney, assistant U.S. attorney general, and president of the Sagamore Institute. Send comments to ibjedit@ibj.com.

Click here for more Forefront columns.
Please enable JavaScript to view this content.