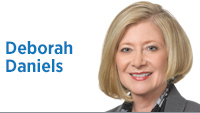 On Jan. 3, as Congress convened, U.S. Rep. Susan Brooks, Indiana's 5th District representative, quietly returned to private life.
Rep. Brooks first ran in 2012, in her words, "to make a difference in my community and country. I wanted to do my part to restore confidence in Congress—to reassure people that our government can and does do enormous good."
She spent long days working in Congress and then came home and spent long days meeting with her constituents. As one of a relatively small number of women in the Republican caucus and having a strong background in law enforcement, education and workforce development, she quickly moved up the ranks, becoming the first woman from Indiana ever to chair a House committee.
She chaired the House Ethics Committee at a pivotal time in its history during the #MeToo movement. In addition to addressing individual cases of sexual harassment, she worked to craft and pass the first overhaul of the congressional response to harassment in nearly 25 years. She discovered that taxpayers had for years been funding millions of dollars in settlements, paid out by Congress, to victims of sexual harassment committed by members of Congress.
The revised rules now require the accused to pay the settlements out of their own pockets, which should have been happening all along. No wonder members and staffers described sexual harassment as "rampant" on the Hill. There were no consequences for being caught.
When news broke of the inexcusable and tragic sexual abuse of hundreds of young gymnasts, Brooks authored a bill to mandate the reporting of suspected abuse nationwide and improve the protection of young athletes. That bill, merged with its Senate counterpart, was enacted into law in early 2018.
But the congresswoman didn't limit her work to those areas. She focused on the opioid epidemic and the fight against illegal drugs, participating in the development and passage of the first major overhaul of addiction legislation in 40 years. She introduced successful legislation addressing mental health, and in particular the mental health of the nation's law enforcement officers.
She chaired the House Homeland Security Subcommittee on Emergency Preparedness, Response and Recovery, authoring legislation that will further the development of our national stockpile for vaccines, medical equipment and diagnostics while also preparing the nation to respond effectively to natural disasters and biological, chemical, radiological and nuclear threats.
She served on the Select Committee for the Modernization of Congress, recommending nearly 100 improvements to the efficiency and transparency of the body. And she became actively involved in recruiting more women to run for Congress. In 2020, she chaired the recruitment committee of the National Republican Congressional Committee. She focused specifically on the recruitment of women. While, in 2018, the number of Republican women in Congress dropped from 23 to only 13, in 2020 she helped increase that number to 28, more than doubling it.
Most important, Brooks has worked in a bipartisan fashion in a Congress that continues to become more and more polarized. She developed good relationships and co-authored bills with colleagues from across the political and philosophical spectrum by finding important causes on which they could agree.
As I watch some in Congress pursue destructive goals that threaten our democratic ideals and institutions, undermining the public's faith in our electoral process, I am very sorry to see that institution lose someone like Brooks. There just aren't enough of those good folks around.•
__________
Daniels, an attorney with Krieg DeVault LLP, is a former U.S. attorney, assistant U.S. attorney general, and president of the Sagamore Institute.

Click here for more Forefront columns.
Please enable JavaScript to view this content.