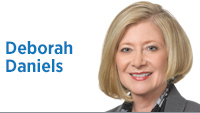 The legal community has lost a giant.
Tim Morrison, who passed away Jan. 6, served as first assistant U.S. attorney in the U.S. District Court's Southern District of Indiana for 23 years, during that time being elevated to serve as interim U.S. attorney three different times for a total of over four years.
That's what he did, but not who he was.
I first worked with Tim in the early 1980s, when Steve Goldsmith, then-Marion County prosecutor, hired him as a deputy. He stood out as an excellent lawyer and supervisor of others. When I was appointed U.S. attorney in 1988, I asked Tim to serve as my first assistant.
I heard Tim describe that hire on a podcast that aired about a year ago. Asked how he ended up as first assistant U.S. attorney, he said, in typically self-deprecating fashion, "Oh, I'm not that brilliant. I was just in the right place at the right time."
Not that brilliant? I beg to differ.
In fact, Tim stood out among his peers throughout his career as a brilliant lawyer, as well as one who demonstrated respect for everyone in the legal system and was known for his civility—a quality not seen in all lawyers. Because of these traits and others, he was universally respected by those in the justice system. He was my first and only choice to fill the challenging role of first assistant.
Tim was admired by everyone in the federal system: prosecutors, agents, judges and even defense attorneys. He took on the toughest cases, mentored younger lawyers, was an exacting but fair and supportive supervisor, and was a person of great integrity with a strong ethical and moral compass. Of nearly equal importance, he also had a wonderful sense of humor. It was for these reasons and more that successive U.S. attorneys of both political parties retained him in his role—and he was repeatedly appointed to fill the top job during vacancies.
Tim was humble. He was a first-generation college student who always wanted to be a trial lawyer despite no family members having been involved in the practice of law. And he felt strongly about the importance of integrity and honesty. He said in the same podcast: "It may seem trite, but if you lose your credibility, you've lost everything. It's over."
Tim had perseverance. He worked his cases hard, turning over every stone and ensuring that he and his trial partners, as well as the federal agents working on the investigations, were fully prepared. As a demonstration of his dedication and tenacity, I should mention that, beginning when he worked in the Marion County Prosecutor's Office and concluding about 30 years later when he retired from the U.S. Attorney's Office, he commuted an hour and a half each way, every day, through every kind of weather, to work in Indianapolis from his home in his beloved Bloomington.
But he wasn't finished when he retired from the government. For about the next 10 years, he taught criminal law and procedure at his equally beloved Indiana University, at the Maurer School of Law. There, too, he was revered, by faculty and students alike.
I had the good fortune to visit with Tim a handful of times over the past year, during his illness. He maintained the optimism and perspective that had always characterized him, expressing gratitude for the life he had been permitted to live rather than railing against cruel fate for ending it too soon.
Rest in peace, my dear friend and colleague. You will be sorely missed.•
____________
Daniels, an attorney with Krieg DeVault LLP, is a former U.S. attorney, assistant U.S. attorney general, and president of the Sagamore Institute. Send comments to ibjedit@ibj.com.

Click here for more Forefront columns.
Please enable JavaScript to view this content.