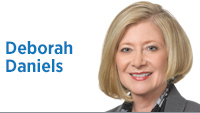 I am a fact- and data-driven person. I trust science to guide my own decisions as well as public policy.
For this reason, I cannot comprehend the anti-vaccine fervor that has consumed large swaths of the public. I understand that some people have medical conditions that might preclude their taking the COVID-19 vaccine; and I understand those who, based on sincere religious belief, decline to accept medical treatment.
That takes care of a fraction of 1% of the population. But what excuse is available to the rest of the 42% of Hoosiers over age 18 who still have not been partially or fully vaccinated? Now that the FDA is about to fully approve the Pfizer vaccine, that will convince a few, but, I fear, not the hardcore anti-vaxxers.
Folks, this is not the flu. The flu generally won't kill you or leave you with lifelong health problems. If you transmit it, you are highly unlikely to cause another person to die. But the COVID-19 virus has already killed over 600,000 people in this country.
And the delta variant, according to experts, is much more virulent and probably twice as contagious as the original. It is spreading rapidly, specifically because so many people are unvaccinated. While it can even infect the vaccinated, the percentage of those infections is minimal and those patients' symptoms are generally mild. The vast majority of cases—estimated at 98% of COVID cases and 96% of deaths—are among the unvaccinated.
The risk of infection is one in 892 for those who have been vaccinated but is one in 14 for the unvaccinated. The risk of hospitalization is one in 18,795 for the vaccinated, but one in 237 for the unvaccinated.
As they or their loved ones become dangerously ill, some people are realizing their error. COVID patients close to death at our hospitals now beg for the vaccine, but it's too late to help them.
This is not just a matter of personal choice. By refusing to be vaccinated—and, ironically, also opposing mask-wearing in public—a significant percentage of our population is seriously endangering not only themselves, but also others.
The most incredible thing about this is that so many people adhere to the anti-vax orthodoxy as a political statement, and they are dug in. Belatedly, in the face of the devastation being caused by the delta variant, conservatives like U.S. Sen. Mitch McConnell, former Trump spokesperson Sarah Sanders, and even Sean Hannity of Fox News are strongly advising vaccination—but it appears they are too late.
And their voices are drowned out by others on the right who continue stirring the anti-vaccination pot. These cynical people, in order to burnish their anti-establishment credentials, are inducing other trusting souls to risk death and cause the deaths of others. Former President Trump could make a real difference by strongly supporting vaccination, but his support has been both lukewarm and internally contradictory.
Calling this a matter of personal liberty is wrong. A person's constitutional freedoms don't apply when his actions are harming others. And vaccine mandates in the interest of public health and safety were determined to be constitutional over a century ago by the U.S. Supreme Court.
There is no way to beat this pandemic if we cannot get the vast majority of our population vaccinated. In the meantime, we'll all have to go back to wearing masks and watching our loved ones die while we wait for the unvaccinated to take this single, critical step.
And we were so close.•
__________
Daniels, an attorney with Krieg DeVault LLP, is a former U.S. attorney, assistant U.S. attorney general, and president of the Sagamore Institute. Send comments to ibjedit@ibj.com.

Click here for more Forefront columns.
Please enable JavaScript to view this content.