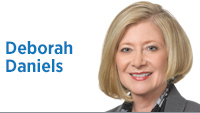 Political courage seems to be in short supply these days.
I learned about government from the late Sen. Dick Lugar. He firmly believed in doing the right thing—not necessarily the expedient thing or that most likely to keep him in office. I recall his oft-quoted remark, "Good government is good politics." In other words, do what you believe is best for your community, state and/or country, and the politics will take care of themselves. (And if they don't, you still have the satisfaction of having done the right thing—not selling out for self-preservation.)
Recently, The Indianapolis Star published an article about Bill Oesterle, a highly accomplished Harvard MBA and, among other things, co-founder of Angie's List. The article revealed that Bill has ALS, sometimes called "Lou Gehrig's Disease"—an insidious, progressive, degenerative neurological disease that, bit by bit, is reducing his capacity to perform even the most basic functions.
That he continues to work for the betterment of Indiana through his current company, TMap—founded for the purpose of bringing to Indiana, and retaining, talented people—is courageous in itself. This work can be defined as the governing purpose of Bill's life.
But this column is about another kind of courage, one Bill displays as well. He has long been a Republican stalwart, running a successful 2004 Republican gubernatorial campaign, among other things. But in 2015, when the Republican-dominated Legislature passed and the Republican governor signed the Religious Freedom Restoration Act, Bill was one of the loudest voices opposing it. Why? Because it sent precisely the wrong message to all that talent, as well as major corporations, that Indiana desperately needs in order to thrive. He, and corporate leadership in Indiana, prevailed—even though his position cost him some support he had formerly enjoyed among conservative Republicans. That demonstrated courage.
Nashville, Tennessee, like Indianapolis, has consolidated government, but years ago, it built a regional tax base that has led to a booming economy. I am told that, at that time, when steps were taken to form a single, consolidated tax base, all the public officials who supported the effort were voted out of office by a provincial electorate who failed to see the financial benefits of the move. Knowing this was likely, the officeholders did it, anyway. That took courage.
We are now seeing some examples of courage, and standing on principles such as truth and integrity, on the part of certain individuals on the national stage. Sadly, the number of these courageous people is limited.
Chief among them, however, is congresswoman Liz Cheney. No one can legitimately question Cheney's conservatism—in fact, the term "rock-ribbed conservative" normally comes to mind when one thinks of her. From 2017-2021, she voted in line with former President Trump's position 92.9% of the time—a higher percentage than Mark Meadows, Jim Jordan and Mo Brooks.
But Cheney is highly likely to lose in the Aug. 16 Republican primary. Why? Because she has done the right thing. She has maintained true conservative principles. She has stood for honesty, integrity and the rule of law—and for the U.S. Constitution.
Others have shown courage, too—including Rusty Bowers, the Arizona House speaker who just lost his primary, and 26-year-old Cassidy Hutchinson, who told the truth to the Jan. 6 committee at considerable risk to her budding career. And on Jan. 6, Mike Pence stood up for the Constitution in the face of threats to his life.
These are some of today's heroes. Could we be as brave?•
__________
Daniels, an attorney with Krieg DeVault LLP, is a former U.S. attorney, assistant U.S. attorney general, and president of the Sagamore Institute. Send comments to ibjedit@ibj.com.

Click here for more Forefront columns.
Please enable JavaScript to view this content.