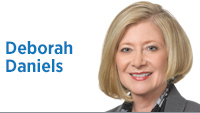 In recent years, I have heard the term "RINO" (Republican in Name Only) slung about by many self-styled arbiters of conservatism.
As the use of this pejorative seems to become more frequent, I'm wondering who the real RINOs are.
The Republican Party has always believed in minimal regulation of business. But the Indiana General Assembly this year imposed philosophically motivated restrictions on businesses that were trying to protect their employees from COVID. The original bills were far more draconian than the final product, fortunately, but the entire exercise was a significant deviation from Republican orthodoxy.
Further, Republican legislatures throughout the country have sought to control what schools may and may not teach, overriding the prerogative of elected school boards. They chase the bogeyman of "critical race theory" and legislate prohibitions on things that are not actually occurring in our elementary schools.
We have been the party of law and order, and years ago, our Republican-dominated Legislature sensibly passed a red flag law permitting police to take guns from those who appeared to be a threat to their own or others' safety based on a mental condition. When a man killed eight people and himself at our Federal Express facility just over a year ago, the incumbent Democratic prosecutor was roundly criticized for failing to invoke the law and prevent the killings. But now, there are calls for the repeal of red flag laws as an unneeded restriction on the Second Amendment right to bear arms. This is not traditional Republicanism and is of particular concern in the wake of Uvalde and other tragic and potentially preventable mass killings.
I have previously expressed concern about the "constitutional carry" legislation passed this year by the Indiana General Assembly and other legislatures around the country. Now, when police stop a person and find a gun, they will not be able even to temporarily seize it based on the lack of a gun permit; they will have to let the potential criminal leave with his gun. This is not law-and-order Republicanism.
The party of Ronald Reagan respected the electoral process. A candidate defeated at the polls called the victor and respectfully conceded. Yet, the 2020 presidential election resulted in bogus claims of mass election fraud, efforts to replace duly appointed electors with an alternative set who would cast their votes contrary to the expressed will of the voters, and apparent solidarity on the part of even some in Congress with a mob that broke into our Capitol, vandalized a national monument and sought to disrupt Congress's constitutional duties.
The party of Reagan was one of purpose and optimism. In 1984, President Reagan spoke of "morning in America," expressing great optimism about our future. It was the party of diplomacy and cooperation with our allies abroad in a unified attempt to defeat communism and help create conditions supporting free societies throughout the world. ("Mr. Gorbachev, tear down this wall!")
On the contrary, the inauguration speech of Donald Trump was anything but optimistic. He talked of "American carnage" and promised an "America first" policy. He followed up on this with a foreign policy that alienated us from our allies and applauded tyrannical despots like Vladimir Putin and Kim Jong-Un.
The party of Reagan embraced his 11th commandment: "Thou shalt not speak ill of fellow Republicans." But some people self-identifying as Republicans—many of whom are the same self-styled arbiters of conservatism I mentioned—not only criticize, but also viciously attack their fellow Republicans.
So who are the real Republicans and who are the RINOs?•
__________
Daniels, an attorney with Krieg DeVault LLP, is a former U.S. attorney, assistant U.S. attorney general, and president of the Sagamore Institute. Send comments to ibjedit@ibj.com.

Click here for more Forefront columns.
Please enable JavaScript to view this content.