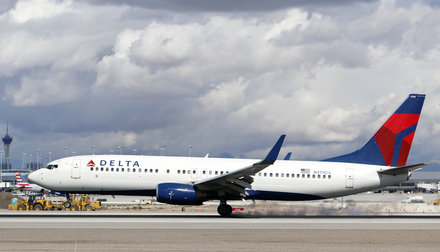 Indiana's first nonstop trans-Atlantic flight has been suspended until at least next spring amid the COVID-19 pandemic, which has halted international travel and led to multibillion-dollar losses for the air travel industry.
Atlanta-based Delta Air Lines Inc. has halted its nonstop, year-round service from Indianapolis International Airport to Paris' Charles de Gaulle Airport through at least winter, a Delta spokesperson told IBJ on Wednesday. No restart date has been set, she said.
The news comes after Delta announced that a few international flights would begin again in May. Detroit, Minneapolis, New York, Seattle and Atlanta will see some of their international flights resume. Delta will operate just three trans-Atlantic flights in May: Atlanta to Amsterdam (daily), Atlanta to Paris-Charles De Gaulle (less than daily) and Detroit to Amsterdam (daily).
U.S. citizens have been advised since the end of March to avoid all international travel because of the global impact of COVID-19. Commercial airlines significantly reduced flights as countries across the world closed their borders.
In an update posted to its website late last week and updated Wednesday, Delta said the airline's schedule for the second quarter of 2020 is 85% smaller than the same period last year, but the airline "continues to provide essential service to key cities globally along with essential service throughout the U.S."
During its recent first quarter financial results call, the airline announced reductions oof 80% in U.S. domestic capacity and 90% international capacity.
Delta began flying between Indianapolis and Paris on May 24, 2018, giving Indiana its first-ever nonstop trans-Atlantic flight. The flight was announced with much fanfare, and Delta was offered a sizable incentive package from the Indiana Economic Development Corp.
The two-year deal allowed Delta to earn $55 for each passenger who boards the flight ($110 per round trip) during the first year of the service, and $35 per passenger ($70 per round trip) the second year. Payments were capped at $3.5 million the first year, and $2 million the second year, which runs through May 31, 2020.
An IEDC portal shows Delta has already earned the full $2 million for this year, ahead of the May 31 deadline, indicating the route had exceeded expectations. In September, Delta increased the route's frequency from five weekly flights to six, another indicator the route was well used.
In a statement to IBJ, Indianapolis International said it continues to work with its airline partners and understands schedule changes.
"When the airport first landed the Delta Indy to Paris flight connecting Hoosiers to the rest of the world, it was done through the efforts of a strong diverse group including city and state leaders, local tourism, and the business community," a statement said. "As recovery begins, we will again lean on this group to enhance our continued conversations with Delta Air Lines. We look forward to flying together again."
Please enable JavaScript to view this content.