During the final hours of the 2020 legislative session Wednesday night, updates on the coronavirus flooded the news.
Lawmakers received updates on their cell phones and occasionally shared the latest developments on the chamber floor as the NBA suspended its season, the NCAA and Big Ten closed tournament games to fans, and President Donald Trump restricted flights from Europe.
But no bills were under consideration to address the growing public health concern.
Republican leaders say they talked to Gov. Eric Holcomb before the session ended and he assured them his administration has all the necessary authority and spending power to handle the outbreak.
"I know the governor is taking it extremely seriously," Senate President Pro Tem Rodric Bray said. "It's the most important thing he's been dealing with in the last few days, I would guess, and it will continue to be."
But Democratic leaders say steps could have been taken to protect employees who might be out of work due to the spread of the virus, and they have a growing list of questions for how the state is preparing and handling cases so far.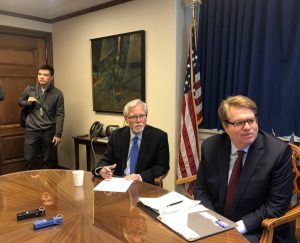 "Communication is going to be so important," Senate Minority Leader Tim Lanane said. "The clearer it can be as to here's what we're doing as state, here's how you should react, you know, as a citizen to this, the better off we're going to be."
Lanane and House Minority Leader Phil GiaQuinta said lawmakers could have passed legislation this session to help protect employees, who may not be able to work as the virus spreads, but there didn't seem to be an appetite for such measures in the Republican-controlled General Assembly.
As of Thursday morning, Indiana has 12 confirmed cases of COVID-19, a disease caused by a novel coronavirus, with two cases in Marion County.
Holcomb has been mostly quiet on the issue. While governors in other states, such as Ohio and Washington, have taken steps to limit large social gatherings and protect nursing homes where some of the individuals most vulnerable to the virus are, Holcomb has not issued similar public advisories.
His administration also has not commented on what guidance, if any, has been issued to the 30,000 state government employees.
Holcomb attended a press conference last week to announce that the state had its first case, but he has not had any other formal media gatherings to discuss what his administration is doing. His administration has also not responded to IBJ's questions on the issue, including what state government protocol will be or steps Holcomb is taking to limit his own exposure to the virus and what policies he is considering to protect the state.
Lanane and GiaQuinta told reporters on Thursday morning that they have not been briefed by the administration on the issue.
"I understand this is an unfolding rapidly changing situation, but enough time has gone by now that certainly I think legislative leaders in the minority should be consulted and advised as to what is the plan," Lanane said.
GiaQuinta said the governor should be speaking to the public on a near-daily basis to provide updates on the issue.
The Indiana State Department of Health has been regularly updating a website with information about confirmed cases and where those individuals are located, but Democratic leaders say that's not enough.
On Wednesday, Lanane sent Holcomb a letter requesting more information on what steps are being taken to prepare for the coronavirus outbreak.
"While your office has been updating the public with general information such as the number of current infections and hotlines to call with questions, I believe the time is upon us for the public to know what specific efforts the state is taking toward containing this virus," Lanane wrote in the letter.
A few specific pieces of information Lanane has asked for include how many testing kits the state has available, whether there are enough to meet demand and how those kits are being distributed to hospitals and health departments.
He also wants to know whether the state will have policies covering nursing homes, senior centers and large social gatherings, like sporting events and conventions.
The Big Ten Conference allowed the men's basketball tournament on Wednesday at Bankers Life Fieldhouse to proceed as normal, but announced Wednesday night that the rest of the tournament would be closed to fans. Then it called off the rest of the tournament Thursday morning.
The NCAA also announced Wednesday that postseason tournament games would be off-limits to the public. The NCAA Division I men's basketball tournament's Midwest Regional is scheduled to take place March 26 and 28 at Lucas Oil Stadium.
Lanane said some type of limitation on large events is "certainly something that we need to consider."
Bray and House Speaker Todd Huston said they trust Holcomb to make the determination on whether any policies need to be implemented on big social gatherings.
"I have total confidence in the administration," Huston said.
Please enable JavaScript to view this content.