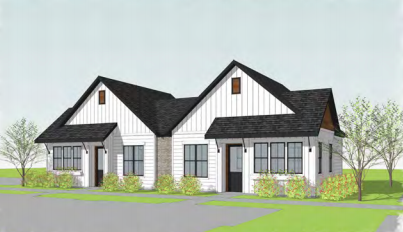 Indianapolis-based real estate developer Thompson Thrift plans to build a $63 million, 250-unit neighborhood of townhomes and paired villas immediately south of the Fishers District.
The Villas at Fishers District would bring 210 paired villas and 40 townhomes to the southeast corner of Ikea Way and USA Parkway. The neighborhood would be for-rent.
The homes would be part of a larger 36-acre mixed-use development Thompson Thrift has proposed for the site that would include the homes and commercial uses. The developer has not publicly revealed what the commercial portion of the project would include, and a spokeswoman did not respond to questions from IBJ.
Thompson Thrift has also not said whether the project is an extension of its existing Fishers District project, which includes The Yard, a hotel, apartments and more. It does carry the Fishers District name and would be immediately adjacent to the existing mixed-use development.
Thompson Thrift has asked the Fishers City Council to rezone the land from Employment Node, which allows for office development, to a planned unit development to accommodate the project. The project was introduced at a council meeting this week, but members delayed taking action on the request to allow neighbors to weigh in on the project's density and parking. Councilor David George raised concerns about the developer's plan for garages and the number of units included, which he likened to condominium-level density.
Steve Hardin, an attorney with Indianapolis-based Faegre Drinker Biddle & Reath LLP, which is representing Thompson Thrift, told council members Monday that Thompson Thrift has been working with city officials on the proposal and doesn't believe the property will be attractive to office developers, likely because it's set back from USA Parkway and is behind the Forum Events Center.
Instead, Thompson Thrift is proposing a largely residential project.
The 210 one-and-a-half-story villas would be built on the southern portion of the site, near the Walnut Hills single-family neighborhood. Those residents would have the option to rent one of 85 detached garages. The townhomes would be built on the northern portion of the site, immediately adjacent to Fishers District. The townhomes would have attached two-car garages.
Hardin said rents for the one-, two- and three-bedroom floor plans are expected to range from about $1,400 up to $3,200 per month.
The project also includes a number of community amenities, including a clubhouse, fitness center, pool, outdoor play areas, three pocket parks and a putting green. There's also a planned public park along the eastern perimeter with a mile-long walking and bicycle path.
Thompson Thrift currently does not own that land but has an agreement in place to purchase it. Construction is expected to start later this year.
Please enable JavaScript to view this content.