The Indiana Department of Revenue is getting ready to launch part of its new online tax portal, which it expects to be a significant upgrade from the system that has been in place for more than 25 years.
"It's time to replace that system," DOR Commissioner Adam Krupp said. "We have patiently waited and observed as other states have modernized."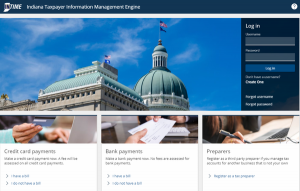 The department signed a $77.7 million contract with Colorado-based Fast Enterprises LLC in August 2018 to implement a new internal tax administration system and online portal for businesses and individuals.
The first phase of the online portal, dubbed the Indiana Taxpayer Information Management Engine (or INTIME), is expected to debut on Sept. 3 (screenshot shown in image to the right).
The first phase, which impacts corporations, not-for-profits, financial institutions, aircraft dealers and partnerships, will offer the ability to register for e-services, update contact information with the department, view and send secure messages, view tax documents, file and amend tax returns and pay taxes.
The current system only allows for some payments to be made.
The secure messaging tool in the system will allow the DOR to electronically communicate with customers, as opposed to only being able to send documents in the mail. Department officials say mailed correspondence sometimes is lost or sent to the wrong address.
DOR officials say the new technology will be able to send messages similar to those that individuals and businesses receive through online banking systems.
"We believe it's a game changer for Hoosiers who are receiving correspondence from us," Krupp said.
The rest of the system will launch in three other phases through 2022. Krupp said the DOR needed to implement the new software in phases because of the volume of transactions the department oversees.
"If nothing else, rolling out one allows us to get comfortable," Krupp said. "It allows us to know the process."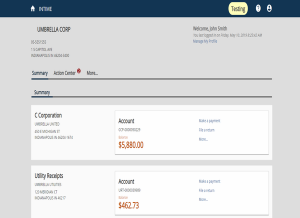 After the system goes live, businesses will be able to register and set up accounts in the portal that will be accessible 24 hours a day and seven days a week (example shown in screenshot to the right).
Individual taxpayers won't be impacted until the third phase of the rollout between 2020 and 2021. The second phase will address a variety of taxes on the county level, including sales tax, food and beverage tax and county innkeeper's tax.
The DOR's contract with Fast Enterprises includes the four-year implementation process plus 10 years of ongoing support and maintenance.
The company has worked with more than two dozen other states to update their tax systems and has 35-40 employees working in Indiana on the project.
"Nobody flies in or out," DOR's Chief Information Officer Kevin Gulley said. "It's really been effective to keep the momentum going."
Please enable JavaScript to view this content.