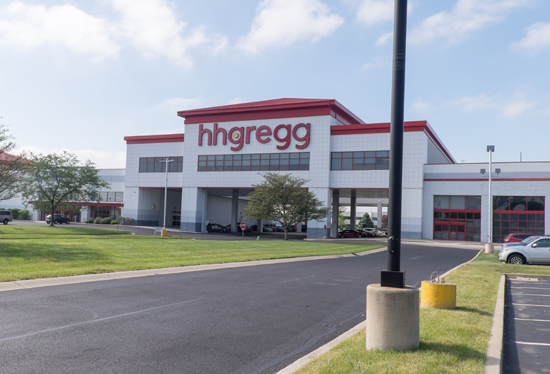 An Indianapolis-based real estate firm has purchased the sprawling former HHGregg Inc. headquarters campus on the far northside for $14 million, with plans to redevelop the 27-acre site.
Citimark announced on Tuesday that it had purchased the property at 4151 E. 96th St. on Dec. 24. State sales disclosure records listed the acquirer as 96th Street Developers LLC, presumably an affiliate of Citimark, and a purchase price of $14 million.
The site includes more than 400,000 square feet of office, industrial and showroom space that was vacated after HHGregg ceased operations in 2017. The consumer electronics retailer used it as its corporate headquarters, as well as for warehousing and distribution.
The building's hollow-square footprint is unique, with an inner open-air parking lot that can accommodate more than 200 cars.
In Tuesday's media release, Citimark said it was considering several options for the property, including use as flex space for a single user or multiple tenants, warehouse space and last-mile distribution services.
The property fronts the busy East 96th Street business corridor, so Citimark also is considering preserving space for retail outlots.
IBJ couldn't immediately reach Citimark officials for comment on Wednesday morning. Founded in 1982, Citimark has acquired, developed, managed and leased more than 20 million square feet of industrial, office and mixed-use properties.
The seller was Throgmartin 96th Street LLC, which is affiliated with the Throgmartin family that founded HHGregg in 1955 and ran it for decades.
Real estate broker Alex Cantu of Colliers Indianapolis assisted Citimark with the purchase. Colliers brokers Jimmy Cohoat and Brian Zurawski are marketing the project for Citimark.
Please enable JavaScript to view this content.