Even the true believers admit it: The insurance industry has an image problem.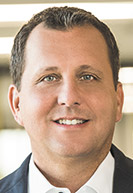 "The industry in general has done a poor job in promoting the noble cause that the insurance industry serves," said Jon Loftin, president of Carmel-based MJ Insurance. "It's never been very high up there as far as a career folks seek out."
With help from MJ Insurance, Butler University is working to change that. The school launched a student-run insurance company in 2017 that insures a range of campus activities and assets, from its fine art collection and pianos to its living bulldog mascot.
The on-campus company, called the MJ Student-Run Insurance Co. Ltd., has several goals. Among them: preparing students for careers in an industry that traditionally hasn't done a good job drawing them in.
"The problem is, no one's figured out the talent pipeline," said Zach Finn, a clinical professor at Butler's Andre B. Lacy School of Business and director of its student-run insurance company. In 2012, Finn helped launch Butler's risk management and insurance major, which today is one of fewer than 100 nationwide.
A few years later, after Finn and other Butler representatives met with MJ Insurance to discuss how the company might support the school, he helped launch the insurer.
"Quite frankly, on the back of a napkin at lunch, we started to scribble down ideas," said Loftin, who has an MBA from Butler.
Finn serves as the company's chief operating officer and chief risk officer. Another Butler professor, Kevin Thompson, is its CEO and chief financial officer. There also are roles for a student CEO and a student chief financial officer.
MJ Insurance pledged $250,000 as seed capital. Other funding came from two university endowment funds. The three provided a total of $368,000 for an insurance reserve fund—a regulatory requirement for any insurer.
After the university approved the project, students contacted 12 potential domiciles—entities that might agree to license and regulate the enterprise.
Of the 12, only Vermont and Bermuda responded. The school chose Bermuda because of its reputation as a hub for insurance innovation, Finn said. "For an island that size, you can get a lot of education," he said.
Indiana wasn't in the pool of possibilities because the state's insurance regulations do not address so-called captive insurers—those owned by the same entity that's covered.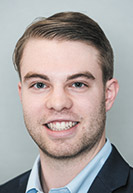 "We're insuring ourselves," said Butler senior Nathan Atkins, who serves as the company's student CEO.
Butler students travel to Bermuda annually to meet with the insurance company's manager, auditor and bankers.
Atkins, who is double-majoring in finance and risk management/insurance, said he became interested in insurance after learning on a sophomore study trip to several New York City-area companies how much emphasis they all placed on risk management.
He began to see the appeal of such a career. "You're looking for problems and how to solve them," he said.
Managing risk
MJ Student-Run Insurance Co. writes three types of insurance.
◗ Its inland marine coverage (a type of property insurance) insures the university's fine arts equipment, art collection, rare books and pianos.
◗ Animal-mortality insurance (a form of life insurance) covers mascot Trip as well as the school's bomb-sniffing dog, Marcus. Scooter, a therapy dog who made his campus debut in August, also will go on the policy.
◗ And commercial general liability insurance covers the risks associated with student-run enterprises selling everything from cookies to pepper spray.
The student-run insurance company purposely avoids some types of coverage.
For example, even though it insures the lives of the campus dogs, it does not offer insurance against the risks the dogs might bite someone.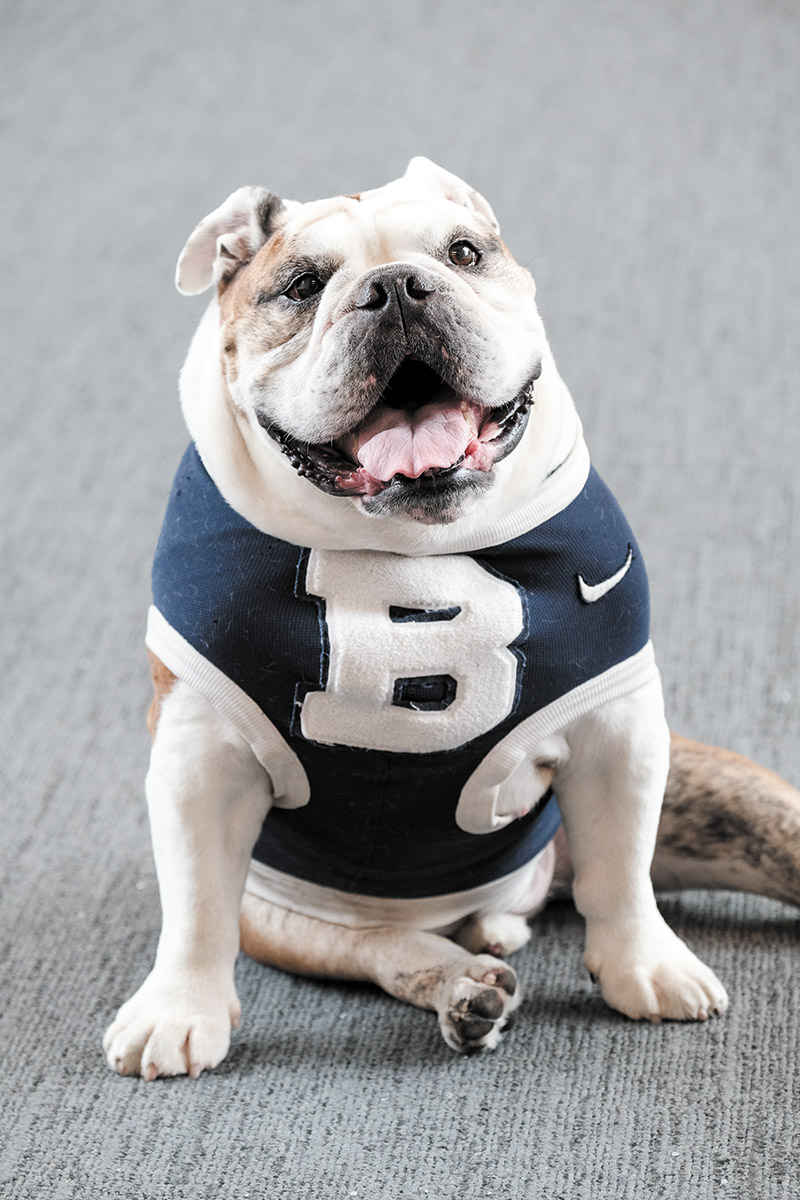 "That was just a little too complicated for the captive," Atkins said.
Neither does the insurer cover Butler's buildings or vehicle fleets, in part because its reserves aren't large enough to cover potential claims in those areas.
The insurance company has started turning a small profit, and it hasn't yet had to pay out on a loss.
Students who help lead the insurer have their eyes on more than finances. Their risk-management duties include conducting periodic loss-control inspections.
On a visit to the Schrott Center for the Arts, for instance, the students learned facilities workers had to remove a certain painting from display every time the building hosted an event where food was served.
The school did this to protect the painting from potential food or drink splatters, Atkins said, but the students saw a problem: What if the painting was damaged in transit?
"That's definitely a big risk there … the constant taking down and putting back," he said.
So the students suggested alternatives, including moving the painting elsewhere on campus.
Another time, the students spotted unused appliances stored in an unsecured area, a finding that led the school to beef up security there.
"We're doing things that weren't really being done before," Thompson said.
A new generation
School officials hope the hands-on insurance experience spurs more students to enter the industry.
According to the U.S. Bureau of Labor Statistics, the insurance industry is comparatively older than the workforce at large.
In 2018, 49% of insurance carrier employees were 45 or older, and the median age in this group was 44.5. Only 44% of the entire U.S. workforce was age 45 or older, and the median age among all workers was 42.2.
The industry's current unemployment rate is 1.7%, far below the national average of 3.3%.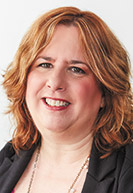 The industry's stodgy image is an obstacle, said Loretta Worters, spokeswoman for the New York City-based Insurance Information Institute.
She said people often assume the field is populated by an army of Ned Flanders types, referring to Homer Simpson's nerdy neighbor on "The Simpsons."
In reality, she said, insurance professionals are involved with assessing, insuring and mitigating risks of everything from wildfires to rock concerts.
"It's really a fascinating industry, and it impacts every facet of our lives."
Loftin sees opportunity take the student-run company in new directions.
"I think what's interesting is where it goes from here," he said. "I think it's just scratching the surface."
Finn said one possibility would be to use drones to map campus, which could set the stage for all kinds of data analysis.
He said the school might, for instance, create a map of its fine art collection, which can be hard to track manually as it moves around campus. The school could even put tracking devices on the art and geofence the campus. If someone stole a painting, police would get an automatic alert.
"We could pull a 'Scooby Doo,'" Finn said, referencing the iconic cartoon show in which the heroes use ingenuity to foil criminals. "They could have gotten away with it if not for those meddling kids."•
Please enable JavaScript to view this content.