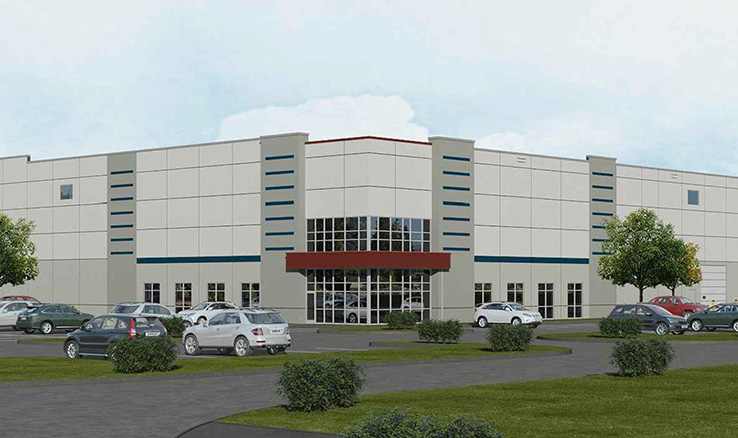 A local development firm is in the final phase of a $250 million, 2.7 million-square-foot industrial park in Boone County, with hopes of completing at least two of the three remaining buildings by the end of the year.
About three years after first breaking ground, Indianapolis-based Strategic Capital Partners LLC has already brought to market about two-thirds of the 80-acre project, known as 65Commerce Park. It also recently sold two of the buildings on the campus, which were constructed during the project's second phase.
The third and final phase of the development is expected to total 1.1 million square feet and is being constructed on a speculative basis—that is, without any tenants committed to the structures. The two buildings now being constructed, with a target completion date of mid-2022, will total 856,000 square feet. The third is still in the design stages, with targeted completion by the end of 2023.
Construction is running concurrent with the development of an interchange at County Road 550 South and Interstate 65, which has direct access to the industrial park. It is located between interchanges at Whitestown Parkway and State Road 267.
John Cumming, vice president of development for Strategic Capital Partners, said the project is one of several the firm has in the works around Indianapolis and is a logical location as the market continues to expand farther from Marion County.
"We're heavily invested into the northwest sub market of Indianapolis, and we expect that to be the case for the foreseeable future," he said. "We'll be careful about the sites that we develop, but we're very aggressive on the e-commerce and logistics market. So, we're busy and we're looking to continue that [pacing] moving forward."
The buildings now under construction have not yet been leased, but Cumming said they are getting "extensive interest."
The second set of buildings on the campus, which total 1.12 million square feet, were sold individually in early February for undisclosed prices. One of the buildings was sold to Chill Pharma, a subsidiary of New York-based pharmacy automation firm iA, with SCP being represented by a team from Cushman and Wakefield's Indianapolis office.
The other building, leased by Style Link Logistics—which provides processing and fulfillment services for global apparel brands including women's clothier Shein—was sold to Granite Real Estate Investment Trust as part of a deal by which SCP also developed a 330,000-square-foot addition to the structure.
The initial phase of the development—two buildings totaling about 719,500 square feet—were sold last year to LaSalle Investment Management and are 100% leased.
Indianapolis-based JRA Architecture LLC is the design firm on the development, with design and build services from Compass Commercial Construction Group. National firm Kimley-Horn is project engineer and Design & Construction Insight LLC is construction manager. 
Please enable JavaScript to view this content.