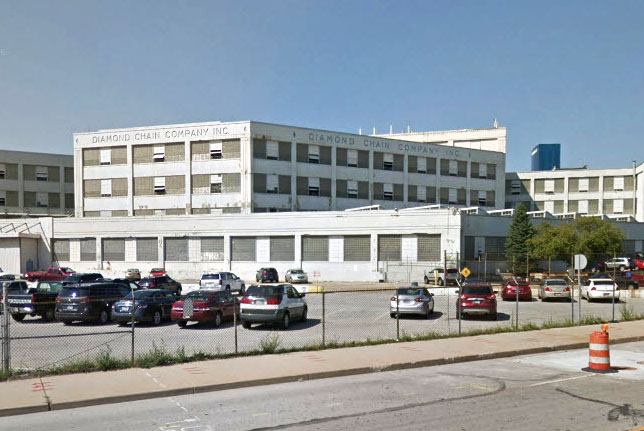 The 102-year-old Diamond Chain plant at 402 Kentucky Ave. in Indianapolis will close over the next 24 to 36 months, ending local employment for 240 people at the facility, the company's new owner said Tuesday.
Diamond Chain, which makes high-performance roller chains for industrial uses at the downtown facility, was acquired in April for $84 million by Timken Co., a much larger company based in North Canton, Ohio.
Company spokesman Scott Schroeder told IBJ that Timken will relocate the Indianapolis operations to its Fulton, Illinois facility, establishing the northwest Illinois site as the headquarters for Timken's global chain business.
"Since acquiring Diamond Chain last year, we've been carefully evaluating how to best integrate the business," Schroeder said in an email. "Our lease is expiring in Indianapolis; relocating to Fulton, where we own the facility, allows us to leverage our existing manufacturing footprint to best serve our customers."
Diamond Chain also has  operations in China which will continue, Schroeder said. "We value the Diamond Chain brand and will continue to operate the business."
Indianapolis employees got the news on Tuesday, Schroeder said. He said qualified employees may have the chance to fill open positions at the Fulton plant.
The Indianapolis facility will continue to operate until production is successfully transferred to Fulton, Schroeder said.
Diamond Chain has a long history in Indianapolis, and the company has had a series of different owners over the years.
According to information from the Indiana Historical Society, the company dates to 1890, when Arthur Newby, Edward Fletcher and Glen Howe incorporated a bicycle-chain company originally known as the Indianapolis Chain & Stamping Co.
The company became the Diamond Chain division of the American Bicycle Co. in 1899. In 1905, the plant's general manager, Lucius Wainwright, purchased the company and renamed it as Diamond Chain & Manufacturing Co.
The company's original facility was on South Street between Meridian and Pennsylvania Streets. It relocated to Senate Street in 1895 before moving to its current location in 1918.
According to Diamond Chain's website, the company's products were used in Orville and Wilbur Wright's first flying machine, Henry Ford's first automobile and numerous championship motorsport vehicles.
Wainwright and his son, Guy Wainwright, ran the company for nearly 50 years before selling to American Steel Foundries, which is now called Amsted Industries. Timken acquired Diamond Chain from Amsted last year.
Timken, founded in 1899, makes engineered bearings and power transmission products. The company posted $3.6 billion in revenue in fiscal 2018 and has more than 17,000 employees in 35 countries. It has manufacturing plants and service centers around the U.S. and overseas, including a facility in Mishawaka.
Please enable JavaScript to view this content.