Indiana's voter turnout is low. What can the Secretary of State's Office do to increase it?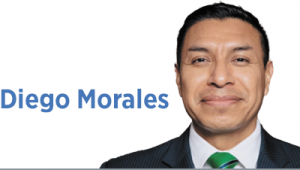 The Indiana secretary of state plays a pivotal role in safeguarding our democracy by ensuring safe and secure elections. As I crisscross the state connecting with Hoosiers ahead of the Nov. 8 election, there is nothing I take more seriously than promoting the ability of voters to exercise their constitutional rights in a way that is fair, transparent and in accordance with best practices for conducting elections.
For far too long, we've allowed the idea to persist that participating in our elections doesn't really matter. Voters have grown disinterested because they feel their voices won't be heard come Election Day or that their elected officials won't care about their insights and experiences. Low voter turnout is a natural outcome of indifference and distrust in our system.
As the next Indiana secretary of state, I will see it as job No. 1 to educate voters on the importance of state and local elections, so Indiana does not experience a drop in turnout. I will also ensure every single person involved in leading Indiana's election efforts, especially our hard-working and dedicated 92 county clerks, feel a spirit of collaboration with the Secretary of State's Office and benefit from a direct line of support.
Voter turnout is largely candidate- and issue-driven—and Hoosiers already benefit from great flexibility in where and when they can vote, including a month-long period for early voting ahead of Election Day, a robust mail-in voting system with multiple ways to qualify to cast a ballot via that method and a 12-hour Election Day.
What's clear is that Hoosiers are not short of options to vote. Turnout numbers do not reflect a systemic issue with the administration of Indiana's elections in and of itself. They stem from the willingness and interest level of Hoosiers and whether they make the choice to register to vote and cast a ballot. The system is there. We must choose whether to interact with it.
Given Indiana's strong position in voting accessibility, I will focus on safeguards surrounding our elections, so all voters have the confidence that their vote was counted. Indiana took the lead and was the first state in the nation to pass a photo ID law. If elected, my administration will work to expand that requirement to mail-in voting as a way to increase trust in the system. We also will be a resource as more of our counties move toward electronic poll books, a critical precaution against voter fraud.
I'll also reach out to the next generation to ensure the office continues to evolve with the times. A stagnant and unresponsive officeholder serves no one. As the next Indiana secretary of state, I will continue to hear ideas from all Hoosiers, whether it's about elections, small-business supports or protecting our most vulnerable from securities fraud. When people feel their state leaders are invested in them, they become more invested in participating. That's why voter outreach will always be one of the most important cornerstones of my administration.•
__________
Morales is the Republican candidate for secretary of state. Send comments to ibjedit@ibj.com.

Click here for more Forefront columns.
Please enable JavaScript to view this content.