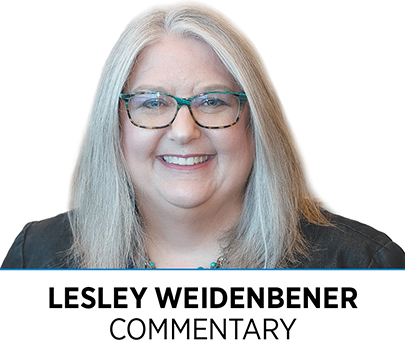 I've lived in Indianapolis now for more than 25 years. I came at the end of 1995 while working for The Journal Gazette in Fort Wayne to cover the Indiana Statehouse.
Since then, I've switched jobs several times—working for The Courier-Journal in Louisville and TheStatehouseFile.com at Franklin College and now at IBJ. During those 2-1/2 decades in the city, my office has always been downtown.
I live in the Garfield Park neighborhood, but more often than not, I shop downtown, I eat downtown, and I bring friends and family downtown when they're visiting.
My husband and I take my nieces to the Yuletide Celebration each Christmas after a stop for dinner at Shapiro's Delicatessen (which always prompts the girls to wonder why their school cafeteria can't be more similar).
We go to Indians games and try to hit at least one Colts, Pacers and Fever game every season. We love Mass Ave. We've made several trips to the new AMP at 16 Tech. We just attended Zoobilation.
You might think all that time makes me especially attuned to how downtown is changing—and how the perception of downtown is changing. It doesn't. In the same way you don't notice your spouse aging, it's easy for changes to a place to occur subtly over time in a way that slips right by.
That's not always the case, of course.
There was no missing the huge impact that last summer's social unrest had on downtown. The boarded-up buildings and graffiti that remained for weeks—even months—after a weekend of riots left downtown incredibly sad.
The pandemic, of course, emptied the streets, closed lunch spots and made downtown downright lonely.
Still, I was startled when some extended family members recently expressed shock that I continue to come downtown every day—and that I worked in the IBJ office on Monument Circle regularly through the pandemic. They assumed it was too unsafe. They asked whether I'm afraid when I walk to get lunch or to my car at night. They asked whether I've ever been attacked or witnessed a shooting.
The answer to all of those questions is no. No. I haven't ever, nor do I now, feel unsafe. No. I've never been attacked. No. I've never witnessed violence.
Have I been asked for money by a panhandler? You bet. Have I walked by homeless people sleeping on the street? Many times. But I haven't been harassed.
None of this is to say that downtown doesn't have serious problems. Recent shootings and other crimes are distressing—and they do make me wonder if I should be more cautious. The exodus from Circle Centre mall is disheartening.
The decision by so many downtown companies not to require workers to come back to the office is—while somewhat understandable—perhaps the scariest change of all, because it threatens a return to the central city's vibrancy.
And so we are working harder to cover what is happening downtown. Last week, we wrote about what key companies and organizations are planning to do about their downtown workforces. We will be examining what crime—and perceptions about crime—are doing to discourage activity in the city core. We have been writing more about the impact of hundreds of city workers moving out of downtown to the new Criminal Justice Campus.
And we will continue to call on city officials and the private companies that have ownership in Circle Centre to act now to rethink what the mall space could be.
But we want to know what you think, too. Go to IBJ.com/letters and tell us your thoughts about downtown and what the city can do to make you want to be here.•
__________
Weidenbener is editor of IBJ.
Please enable JavaScript to view this content.