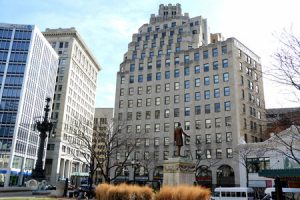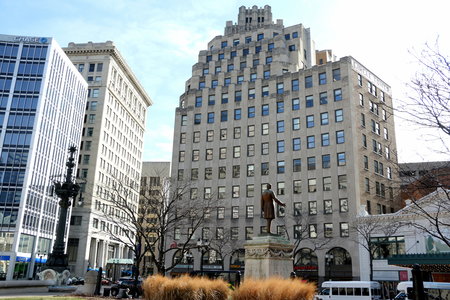 Longtime Monument Circle business Studio 2000 Salon & Day Spa—one of the largest day spas in the Indianapolis area—has closed its doors permanently after the owners found the pandemic-related business downturn and the deterioration of downtown became too much to overcome.
The establishment, located on the second floor of the 17-story Circle Tower at 55 Monument Circle, had its last day of operations Friday after more than 30 years in business.
"A mandatory government shutdown, a worldwide virus, a violent riot and an infested empty downtown have ended our dream," the business said in an email sent Monday morning that is addressed to "Friends of Studio 2000."
In that email, the business said its sales plunged by more than 50% while expenses remained at 100%. It cited multiple reasons for the closure, including the 77-day mandatory COVID-19 shutdown this spring and the general emptying-out of downtown that followed; the riots and looting that damaged many downtown businesses; and the increased number of loiterers on Monument Circle.
Linda Williams and Mel Brandenburg opened Studio 2000 in 1989 in a space that had been occupied by a barber shop since Circle Tower's opening in 1929. They expanded the business in 2000, enlarging the salon and adding a spa while retaining the space's award-winning historic Art Deco interior.
The spa grew into one of the five largest in the area in terms of employment, according to IBJ research.
Studio 2000 said it will be working to help its more than 20 staff members find new jobs and has engaged the law firm of Kroger, Gardis & Regas to help it wind down business operations and work with creditors and suppliers.
The owners said they were prepared to reopen after being shut down during the early stages of the pandemic. They received a Paycheck Protection Program loan from the Small Business Administration and were preparing to bring back employees on June 1. Then, on May 30, destructive riots broke out downtown.
"Rioters smashed store windows, looted goods and burned many of our fellow neighboring businesses, all live on television," the owners said. "This damaged the psyche of the residents, workers and shoppers in downtown. Countless clients have told us they are afraid to come downtown. Our beautiful Monument Circle has become a haven for a group of drug users and mentally ill people who are aggressively pursuing our staff and customers, defecating on the sidewalks and the alley ways, openly dealing and using drugs while driving customers out of downtown."
Williams and Brandenburg said government authorities, including the City-County Council, have done little to help downtown businesses recover.
"We all expressed our concern on all of the above issues that are ruining our chances to stay in business and asked for a plan to help downtown recover from this trauma," the owners said. "Nothing materialized. The Mayor's office, Indianapolis Downtown, Visit Indy and Keep Indianapolis Beautiful have taken too long to act. They have no plan to help retailers, except they are launching a $1 million advertising campaign to encourage people to visit downtown Indianapolis. Yet, the aforementioned problems will still greet them."
Please enable JavaScript to view this content.