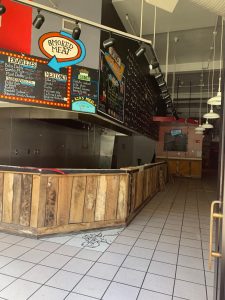 Sugarfire Smoke House at 24 W. Washington St. downtown has closed—apparently permanently—and the restaurant has filed a lawsuit against its landlord in a dispute over rent payments.
Sugarfire is part of a fast-casual St. Louis-style barbecue chain based in St. Louis and founded by chef Mike Johnson. The first restaurant opened in 2012, and its website currently lists 15 locations in Missouri, Illinois, Kentucky and Colorado, with another three listed as coming soon in Florida, Iowa and Texas.
The Indianapolis location opened in April 2018 in a high-profile site across from Circle Centre Mall and next to the Conrad Indianapolis Hotel. The space has been cleared out and a phone number to the restaurant is no longer in service. The chain's website lists the location as closed. It had been listed as "temporarily closed" until recent days.
E-mails sent to Johnson, as well as Sugarfire CFO Ismail Ghodbane, were not returned. A phone call to Sugarfire's attorney also was not returned.
The business entity that runs the Indianapolis location, BBQ Indy 1, LLC, filed suit May 26 in Marion Superior Court against landlord John J. Goodman and related business entities he owns that do business as Two North Meridian Co., Goodman Jewelers Inc., Goodman Court Street Inc. and Goodman Quad Limited.
According to the lease agreement filed as part of the suit, Sugarfire signed a five-year lease for the space in June 2017. The restaurant was to pay $13,101 per month in rent for the space, which included 2,859 square feet on the first floor, 1,104 square feet in the basement and a 305-square-foot mezzanine area. The lease also included an optional five-year extension, with monthly rent to increase to $14,412 per month during that period.
In its complaint, Sugarfire says Goodman had agreed to reinforce a portion of the first floor so that it would be strong enough to support the weight of the smokers and walk-in coolers that Sugarfire would be using.
After it signed the lease in June 2017, Sugarfire said, it discovered that the floor's concrete substrate was crumbling. The restaurant said it had the entire first floor rebuilt at its own expense, delaying the opening by two months.
Goodman refused to pay any portion of the $40,000 expense, Sugarfire said, and denied the restaurant's request to delay the start of rent payments by two months to account for the delay in opening.
Sugarfire says it also spent more than $200,000 on improvements to the space, including installing a new heating, ventilation and air conditioning system; insulation; lighting; smokers; and walk-in coolers, among other things. Goodman, the owners said, also refused to help cover those expenses.
Sugarfire says that it requested relief from Goodman repeatedly.
"However, after the coronavirus pandemic hit Indianapolis and the landlord still refused to offer lenant unconditional rent relief for the delayed opening of the restaurant or any compensation for plaintiffs improvements to defendants' building, plaintiff finally realized that landlord would never provide any fair and equitable relief or compensation for landlord delivering the leased premises in a deficient, defective, unsafe and unfit condition for use by plaintiff, and that therefore, litigation was necessary," the suit says.
Reached by phone Thursday morning, Goodman declined to comment.
Sugarfire is asking the court to declare its lease null and void and to award it an amount equaling all rent paid plus other expenses. It also seeks damages in an unspecified amount.
Please enable JavaScript to view this content.