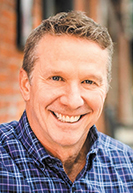 Age: 59
Hometown: Kokomo
Residence: Zionsville
Family: single
Education: bachelor's from Purdue University, medical degree from Indiana University
Political experience: none
Career: medical director for Easterseals Crossroads, founder of Timmy Global Health (now a volunteer), former medical director of pediatric medical rehabilitation at Riley Hospital for Children
Why he's running: I always think about succession—who will write the next rules? What world are we leaving? I just think we could do better on health care, and I think we need more doctors in Congress.
Top priority: health care
What he's streaming: "The Curse of Oak Island" on the History Channel
Q&A
What do you think needs to be done to improve access to and the affordability of health care?
I think we could expand access to telehealth and focus less on expanding the real estate of hospital systems. I was preaching 15-16 years ago about the need to increase access to broadband internet. The other issue I keep harping on is Adverse Childhood Experiences and looking at what that does to outcomes in health. Being a doctor, I think about—are we treating the root cause or are we only treating the symptoms? I think we're only treating symptoms.
What should be done to address the massive amount of student debt in this country and make college more affordable?
I tell students to go where it's cheapest for them. There's enough stress. You don't need that added on. You have to be mindful of what you are spending to be there and what that looks like when you pay it off. I think universities and colleges could do a lot better job reducing costs. It makes no sense to me why universities and colleges continue to build all these buildings. It's just like hospitals—it's not the buildings that do the teaching and the healing.
What is your position on trade and tariffs?
The deal with Mexico and Canada was something that needed to be hammered out. As for the trade war with China, it's obvious that the copyright and patent laws are ignored there. I'm a big believer in free trade. But the Chinese culture is much different—they have an end game that's 50 years out, and we as Americans don't think like that so we are disadvantaged.
What should be done to address climate change?
The issue has become so politicized, but to me it's just common sense that we should be looking at renewable energy. I think we could do much better at increasing renewable energy resources, but we have to be sensible with how that is brought in. We don't want to damage other parts of the economy.
Pediatrician has global view of health care
Growing up Catholic, Chuck Dietzen wanted to be St. Francis, the patron saint of animals.
The closest option was to become a veterinarian, which became his goal. But he spent years helping his mother with dozens of foster siblings who stayed in his family's home in Kokomo.
His mom started suggesting he instead think about becoming a pediatrician.
Still, he initially pursued veterinary school, earning his bachelor's from Purdue University's School of Agriculture. But he went on to attend medical school at Indiana University and pursue a career as a pediatric rehabilitation doctor.
He said the field helped him combine two loves—sports (he played football in high school) and helping others through medicine.
And he said his experience growing up with such a wide variety of people at home helped spur a global vision for health care. After completing his residency, he traveled to the former Soviet Union in 1992 and to Haiti in 1993 to help those in need of medical services. During a trip to India, he even met Mother Teresa before she died in 1997.
It was after that encounter that he came up with the idea for the not-for-profit Timmy Global Health, which is named after Dietzen's brother, who died as an infant. The organization has now sent medical teams to work with partners in the United States, Ecuador, Guatemala, Nigeria and the Dominican Republic.
During those same years, from 1992 to 1997, Dietzen also had an alter ego. He became a professional wrestler initially known as Dr. Death and later as Dr. Doom.
He said becoming a pro-wrestler was on a bucket list he made as a teenager. That list also included activities like arctic dog sledding (check), catching a fish that weighs more than 100 pounds (check—in Costa Rica) and running with the bulls in Spain (check). One box he hasn't checked yet is earn a black belt.
And even though Dietzen is no longer wrestling as a professional, he still gets in the ring. Several years after Timmy Global Health launched, he started a fundraising event known as the Timmy Takedown, where kids with various disabilities like cerebral palsy or amputees face off with Dr. Doom.
In addition to continuing to volunteer for Timmy Global Health, Dietzen serves as medical director for Easterseals Crossroads and medical program consultant for Bradford Woods. Before that, he served seven years as medical director of pediatric medical rehabilitation at Riley Hospital for Children.
He's never run for political office, other than a failed attempt to be class president in the fifth grade—a race in which he didn't even vote for himself. He said he didn't think he was the best candidate.
That's not the case in his bid for Congress, though. He said Washington, D.C., would be better off with a few more doctors at the table.
"In this race, I do think I'm the best candidate," Dietzen said.•
Please enable JavaScript to view this content.