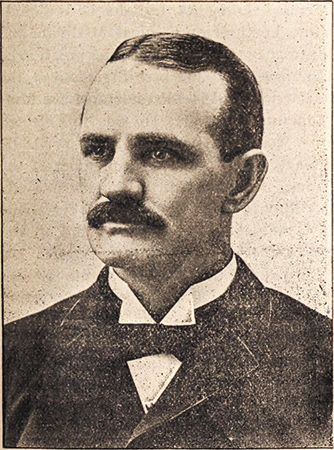 In 1879, Dr. William N. Wishard, then 27 years old, became superintendent of Indianapolis City Hospital, an institution so little regarded that it lacked city water and gas. Said Wishard, "The ventilation was poor, the floors were warped, and the roof leaked." During winter, snow was often found on patients' beds. Appalled, he would do more than anyone to advance hospital care in the city.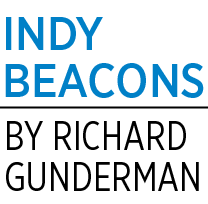 Wishard was born in 1851 in Greenwood. His father, a physician, had been the first in the state to use chloroform for anesthesia, served as a charter member of the state medical association, and delivered a baby on his 90th birthday. Wishard grew up in a devout Presbyterian household, attended Wabash College, and graduated from medical schools in Indianapolis and Cincinnati.
When Wishard accepted the superintendent position, smallpox, typhoid fever and malaria were the scourges of the city. The first city hospital, built in 1859, had never been outfitted but was taken over by the federal government and served as a military hospital during the Civil War. Wishard knew the city could do better and set about championing a new facility.
To garner support, Wishard relied on stories—stories of the sacrifice of the old hospital's staff members, stories of grateful patients, and stories of the growing chasm between the city's growth and extant health care facilities. The city council approved $6,000 for a new wood-frame building, a sum Wishard persuaded the hospital board to double, providing for a brick building.
Wishard prevailed upon the architect to design the building to be essentially non-functional unless a second building were constructed; within months of the first building's completion, a second was authorized with a budget of $16,000. When it became clear that sufficient kitchen, laundry and heating were still missing, a third building was approved with a cost of $25,000.
Wishard saw beyond the physical plant. When he became superintendent, the hospital had only two nurses, each paid $18 per month, and one of them had a tendency to divert alcohol supplies to his own use. With the wards so understaffed, it was difficult for all but the very sickest patients to attract nursing care.
In response, Wishard founded a two-year training school for nurses, gaining an appropriation from the city council and permission to use the east wing of City Hospital to house them. One local physician expressed fear that the well-trained nurses might supplant physicians, but soon this very physician asked for a graduate to work in his practice, and graduates went on to lead schools in other cities.
In 1887, Wishard left his position as superintendent to focus on the practice of urology. He went to New York to train with leaders in the new field, returning to become a professor in what is now the Indiana University School of Medicine, a position he held for 49 years. When the old medical school building burned down, Wishard helped secure the present site on West Michigan Street, near City Hospital.
Wishard served as president of the city and state medical associations, the American Urological Association, and the state Board of Health, and he was elected vice president of the American Medical Association. In 1975, City Hospital, later known as Marion County General Hospital, was named Wishard Memorial in his honor. Today, its latest incarnation is Eskenazi Hospital, named for the family that helped finance the present-day facility.
Medicine and health care have progressed a great deal since the hospital of 1879, but their fundamental purpose remains the same: in Wishard's words, "To care for the sick, to help them regain health, or if that is impossible, to relieve pain and give comfort to the remaining days of the uncurable."
True to his word, Wishard saw his last patient just six days before his death in 1941 at age 89.•
__________
Indy Beacons celebrates the history of Indianapolis in the year leading up to its May 2021 bicentennial by telling the stories of famous city residents. It appears the second and fourth issues of every month. Gunderman is chancellor's professor at Indiana University.
Please enable JavaScript to view this content.